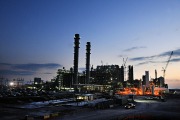 Nation's oldest integrated coal gasification plant might point to more Kemper trouble
If the experience with the nation's oldest integrated coal gasification power plant is any guide, Mississippi Power has a steep learning curve ahead as it tries to bring its troubled Kemper Project power plant into operation.
By Steve Wilson  /   March 20, 2015 / www.mississippiwatchdog.org
Photo Credit: The Southern Company
If the experience with the nation's oldest integrated coal gasification power plant is any guide, Mississippi Power has a steep learning curve ahead as it tries to bring its troubled Kemper Project power plant into operation.
Mississippi Power's Kemper Project power plant, designed to convert high-moisture lignite coal into a natural gas-like substance called synthesis gas, is billions over budget, now estimated at a cost of $6.2 billion. It's also two years behind schedule and the gasifier won't go fully online until at least March 2016. It's been running since August on natural gas.
What can Mississippi Power ratepayers expect when the plant finally comes online? An older and simpler plant offers a possible glimpse into Kemper's first few years in operation.
Tampa Electric put into operation an integrated gasification power plant, the first of its type, in 1996 in Polk County, Florida. The Polk Power Station Unit 1, like Mississippi Power's Kemper Project coal gasification power plant, uses a gasifier to turn coal into synthesis gas.
It hasn't been an easy road for the first-of-its-kind plant, located near Lakeland. According to a report issued to the Department of Energy in 2002, four years after it went into operation, the plant was beset by a whole raft of problems.
The problems that forced numerous stoppages included:
Issues with temperature sensors, including inaccurate readings and damage from solid matter flowing over the top of them
Slag weakening the refractory lining — a material capable of withstanding great heat that protects the shell from hot, high pressure syngas — in the gasifier
Failure of an impeller in the main air compresser
Plugging of the syngas cooler
Problems with the main air compressor, whose effectiveness drops on the hottest Florida days when the plant needs to run at its maximum capacity
According to the report, most of these problems have been resolved and the gasifier has been in service around 80 percent of the time during the five-and-a-half-year pilot program monitored by the Department of Energy. According to the report, the refractory liner for the gasifier — built to withstand temperatures ranging from 2,300 degrees to 2,700 — has to be changed every other year, requiring a 20- to 30-day scheduled outage.
Tampa Electric, through spokesperson Cherie Jacobs, declined to answer any questions about the plant's operational status since the report was issued.
Integrated coal gasification is used by four plants in the United States — Duke Energy's Wabash and Edwardsport facilities in Indiana, Tampa Electric's Polk Unit One and Southern Company's Kemper Project.
Two canceled integrated coal gasification power plants were supposed to be built in Florida.
Plans to add a $1.3 billion, 630-megawatt integrated coal gasification plant at the Polk Power Station in 2007 were scrapped by the company, citing uncertainty with regulations. According to the statement released by the company, they were not "prepared to expose our customers and shareholders to that risk." The Sierra Club and the Southern Alliance for Clean Energy fought the plant's construction.
Tampa Electric sold its coal mining operation to Cambrian Mining Corp. in December.
The Orlando Utilities Commission decided in 2007 to scrap plans to build a gasifier for its Stanton power plant. The plant, when run on syngas, would've had a capacity of 282 megawatts and would've received Department of Energy Clean Coal grants that later went to help fund the Kemper Project.
Sierra Club's Tim Heberlein, an organizer for the environmental group's Beyond Coal campaign in Florida, said he's skeptical of the "clean coal" moniker used to describe integrated coal gasification plants like Polk Unit One and believes Tampa Electric should retire both the Polk coal plant and the conventional Big Bend plant.
"From the campaign's viewpoint, we don't support coal plants and support retiring them," Heberlein said. "When we talk about the price of this between renewables and energy efficiency measures, I think for our success would be retirement and move toward sustainable, clean energy."
There are plenty of similarities between Polk Unit One and Kemper.
Like Kemper, Tampa Electric received taxpayer funds for the construction of its experimental power plant.  The company received $150 million from the Department of Energy to account for 49 percent of the plant's $303 million cost. Thanks to taxpayers, Polk's carbon capture scheme received $168 million in American Recovery and Reinvestment Act funds.
Kemper received $270 million from the DOE.
Both have a carbon capture system, with Kemper's system designed to grab 65 percent of carbon dioxide from the gas stream.
And there are some key differences. Polk's IGCC unit has a generating capacity of only 250 megawatts vs. Kemper's 582 megawatt rating and is part of a complex with several other generating units that use natural gas or distillate fuel oil to fuel their turbines.
Polk burns a feedstock consisting of a mix of petroleum coke — a carbon-rich solid delivered from oil refinery cracking units and bituminous coal. The plant has burned 20 different fuel types and mixtures, including biomass.
Kemper is fueled by high-moisture lignite coal — a lower grade of coal than bituminous — mined on site.
To read more by Steve Wilson: http://watchdog.org/206353/integrated-coal-gasification-plant/