Mississippi Town, Set of 'A Time to Kill,' Hopes to Cash In on 'McConaissance'
In Canton, Miss., Locals Promote Tours Around 1996 Film Starring Matthew McConaughey

CANTON, Miss.—If you preserve the set of a 1996 movie based on a John Grisham legal thriller, will the tourists come?
The town of Canton served as the setting for "A Time to Kill," starring a mostly unknown Matthew McConaughey as a young defense lawyer caught in a racially charged murder trial. Now that Mr. McConaughey is riding high after a string of successful roles and a recent Oscar, Canton has a shot at cashing in on its own slice of the so-called McConaissance by literally walking visitors through the scenes of his first big-budget starring role.
Canton, population 13,000, may not have the tourism cachet of a baseball diamond in the middle of a cornfield like Dyersville, Iowa, which still draws the curious 25 years after the release of "Field of Dreams." But Canton has wooed a string of movie productions, including the Coen Brothers' "O Brother, Where Art Thou?" and Imagine Entertainment's upcoming James Brown biopic "Get On Up," and it is trying to use those movies to woo travelers off nearby Interstate 55.
This is one of a handful of small towns proud to announce their roles in a peculiar class of movies that are liked more than they're loved. Not quite classics, they could be candidates for a Basic Cable Replay Hall of Fame.David J. Bomba, a production designer on the family comedy "My Dog Skip," who fell in love with and moved to the town after filming there, jokes that locals have developed a soft-sell tourism motto: "If you've got time to kill, come to Canton."
Astoria, Ore., throws a festival tied to "The Goonies" every year. Its citizens even convinced Corey Feldman, who played a boy nicknamed Mouth in the 1985 adventure filmed there, to perform with his band in Astoria in 2010. A self-guided tour steers people to locations from that movie, plus those of "Kindergarten Cop," "Short Circuit" and "The Ring Two."
Astoria's citizens embrace the visitors—if not "The Goonies" itself: "A lot of local people say, 'I don't understand it. The movie wasn't that great,'" says McAndrew Burns, executive director of the county historical society that oversees the Oregon Film Museum situated in town.
Tourists in Holderness, N.H., continue to seek out the lake house featured in the 1981 drama "On Golden Pond." One area hotel offers two-night packages for as high as $1,050, including a candlelight dinner, a boat ride and a DVD of the film. And the Weirton, W.Va., cultural center suggests a 19-stop location tour of J.J. Abrams's 2011 science-fiction thriller "Super 8."
Canton has been particularly aggressive, having delivered on a promise to build a 36,000-square-foot, $800,000 soundstage in less than three months to help sell the producers of "A Time to Kill." The town later convinced filmmakers to leave the sets of the movie, which also starred Sandra Bullock, Samuel L. Jackson and Kevin Spacey, as the foundation of a tour around town.
Jo Ann Gordon, head of Canton's tourism and film office, says her town needed to distinguish itself from other Mississippi locales with tourist-friendly Civil War battle sites. Filmmaking and film tourism became the answer: "People want to see, feel and touch Hollywood. They want to actually see the chair that Sandra Bullock sat in or the chair that Matthew McConaughey sat in," she says.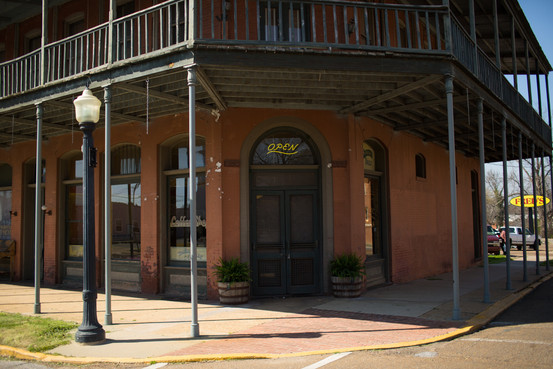 The coffee shop used in the movie 'A Time to Kill.' Kyle Hancock
The town has seen more than its share of stars. It's where George Clooney met a one-eyed John Goodman in "O Brother" and Diane Lane and Kevin Bacon owned a precocious pooch in "My Dog Skip," both 2000 releases. James Franco tried to get a rickety wagon across a rushing river in 2013's "As I Lay Dying."
Cut to a cool Wednesday in March. Blocks from the town square, Eli Manning and his father, Archie Manning, are standing on a manicured front lawn shooting a local ad for BankPlus. (Both father and son quarterbacked at the University of Mississippi before becoming National Football League stars.) Across town, a construction crew is building 3,600 square feet of offices and classrooms for workforce development related to film.
Ms. Gordon's office is often available to give tours to walk-ins whenever they want during business hours.Repeat customers include Jack Philipps, co-owner of Philipps Tours in Winona, Minn., who brought a group of 50 senior citizens to see Canton's movie memorabilia in February on their way back from New Orleans. He has already booked another visit for 2015. Sunnyland Tours of Springfield, Mo., has taken two senior groups of 50 there. "That little movie museum, that's not a slick, glossy museum. That's a lot of locals putting their heart into it. It's so charming," says Kimberly Moyna, a travel agent and tour director at Sunnyland.
The centerpiece of the tour is a once-empty building on the corner of Canton's town square with a set that looks like a diner on the first floor and ersatz legal offices on the second. Visitors hear how the lower set was transformed from the greasy spoon where Mr. McConaughey strategized with Ms. Bullock to a Depression-era savings and loan for the PBS production of Eudora Welty's "The Ponder Heart" to the setting of a short zombie film made by teens in the local Canton Young Filmmakers Workshop program.
Almost everyone in town during the 1995 shoot of "A Time to Kill" has a story. Alice Scott, Canton's first African-American mayor at the time, played an NAACP activist. Ms. Scott recalls how she and local Baptist ministers convinced skeptical citizens that Canton could handle a scene of a Ku Klux Klan rally outside its old courthouse. "People felt that it would bring back some hate in people. It did not," she says. She still has the dress her granddaughter wore for a bit part in the film.
Film insiders have their own stories about the town's singular enthusiasm for the movie business. Mr. Bomba, the production designer, says Canton dug its old streetlights out of storage for "My Dog Skip." He guesses that saved the production about $17,000.
Caroline Aragon, a producer on "As I Lay Dying," remembers recruiting citizens to keep their eyes peeled for roadkill. The script required shots of vultures. Local birds were protected. Renting African vultures from Florida proved too expensive. Ms. Aragon says her phone would buzz with reports of potential vulture food around town.
When you film in Canton, she says, you "definitely have an eager team behind you."
By ADAM THOMPSON | The Wall Street Journa; | April 8, 2014 10:33 p.m. ET
Photo of Matthew McConaughey ©Warner Bros/courtesy Everett Co.