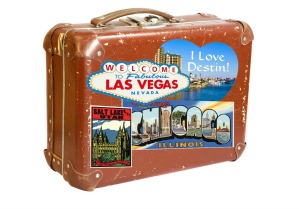 Mississippi state employees rack up $6.8 million in travel expenses
By Steve Wilson  /   October 6, 2016
Mississippi state employees took trips to Las Vegas, Salt Lake City, Denver, Orlando, Myrtle Beach,  Jackson Hole, and Florida's Gulf Coast in fiscal 2016, with state and federal taxpayers picking up most of the nearly $7 million tab.
According to an examination of budget requests, state agencies spent more than $6.8 million on travel expenses despite statewide budget cuts in the fiscal year that ended June 30. While that amount will hold steady in fiscal 2017, four of the top five biggest spending agencies are asking for more travel dollars for fiscal 2018.
In comparison, Alabama spent about $5.3 million on out-of-state travel in 2015 and $5.2 million in 2014 for a state workforce of more than 44,000. Michigan spent more than $4 million in 2015 on out-of-state travel for its more than 67,000 employees. Mississippi has about 35,000 state employees.  According to the nonpartisan Tax Foundation, Mississippi receives a larger share of its state budget (45.3 percent) from Washington than any other state. The average nationwide is 31.5 percent.
Money for agencies to pay directly for travel comes from one of four places: the state's general fund; federal grant programs; agency special funds such as user fees; and professional organizations. Those groups often pick up the tab when they bring together state leaders from across the country, as evidenced by state Superintendent of Education Carey Wright. She had a diplomatic trip to Shanghai mostly paid for by the Council for Chief State School Officers.
Related: How many cars is too many cars for state government?
The state spending totals don't include community colleges and universities, which typically use tuition, student fees and donations to pay for faculty and administrator travel.
The state Department of Revenue spent the most on travel in fiscal 2016 — $518,000 — and has a travel budget of $609,000 for fiscal 2017, which began July 1. The agency is asking for an increase of more than $80,000 for fiscal 2018. Most of those trips are for taxpayer audits of people who pay state taxes but live elsewhere.
Coming in second was the Department of Health, which spent more than $512,000 in fiscal 2016 on out-of-state travel, mostly paid for with federal funds. The state's health agency will spend $740,000 in fiscal 2017 on travel expenses, and will ask for the same amount for fiscal 2018.
Third place was held by the Mississippi Department of Transportation, which spent more than $464,000 on travel in fiscal 2016. MDOT will spend more than $675,000 in fiscal 2017 and asked for a $2,000 increase for 2018. Most of those are for conferences and symposiums for professional development.
Fourth was the Department of Public Safety, which spent more than $448,000 on travel in fiscal 2016. The department, which includes state troopers, will spend more than$326,000 on travel in fiscal 2017 and wants a $17,000 increase in fiscal 2018.
The Department of Banking and Consumer Finance was fifth, spending more than $362,000 in fiscal 2016, which exceeded its appropriated travel budget by more than $2,000. After receiving $360,000 for travel in fiscal 2017, the agency is asking the Legislature for a $500,000 travel budget for fiscal 2018, a 38.5 percent increase, to send five new bank examiners to out-of-state training.