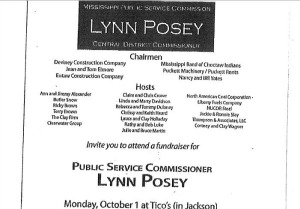 Mississippi PSC commissioner accused of accepting illegal contributions
By Steve Wilson  /   October 1, 2015  /  www.MississippiWatchdog.org
A filing by Thomas Blanton's attorney on Thursday alleges Mississippi Public Service Central District commissioner Lynn Posey illegally received campaign funds from contractors on Mississippi Power's Kemper Project power plant.
Blanton, who's running for the Southern District PSC seat as a Democrat, wants the retiring Republican to recuse himself from further proceedings concerning the Kemper integrated coal gasification power plant because of a conflict of interest. According to Section 77-1-11 (1) of the Mississippi Code, it's unlawful for a PSC commissioner, candidate for PSC or any employee of the PSC or the public utilities staff to accept any gift, pass, money or campaign contribution from any person or entity of a utility under the regulatory authority for the PSC.
The penalty is the forfeiture of their office or position and a possible $5,000 fine and a prison term up to one year.
The alleged violations happened at a pair of simultaneous fundraising dinners at Tico's Steakhouse in Jackson and Weidmann's in Meridian in October 2013. Eutaw Construction Co., Puckett Machinery Co., Puckett Rents and Yates Construction Co. hosted the fundraisers. All have done business with the Kemper Project and are listed as such on the monthly Kemper progress reports filed by Mississippi Power with the PSC.
The hosts at the fundraising dinners paid a minimum of $1,000.
Kemper contractors Business Interiors, Magnolia Steel Co., Southern Pipe and Supply, Engineering Plus Inc., the Mississippi Tribe of the Choctaw Indians, Puckett Machinery Co. and Structural Steel Services Inc. donated to Posey in 2013.
Mississippi Power admitted that all were contractors or suppliers on the Kemper Project. Eutaw Construction received more than $2.7 million in contracts, Puckett Machinery more than $8.3 million, Puckett Rents more than $129,000 and Yates Construction more than $54 million.
Business Interiors received more than $110,000 in Kemper-related work, while Magnolia Steel (more than $541,ooo), Southern Pipe and Supply (more than $845,000), Engineering Plus (more than $195,000) and Structural Steel Services (more than $10 million).
Blanton filed a lawsuit that resulted in the Mississippi Supreme Court ordering the company to refund $350 million in rate increases to help fund the $6.267 billion plant, which converts lignite coal into a natural gas-like substance called synthesis gas. The plant is two years behind schedule, billions over budget and is scheduled to be operational by no later than April 19.
Related: Kemper Project makes for an expensive natural gas plant
The PSC will hold a hearing Nov. 10 for permanent rates on the combined cycle and other working plant assets and will issue a ruling by Dec. 8.
The court ruled the company could not collect rate increases before the PSC decides, in a prudency hearing, whether the spending on construction was justified. If the commission rules the utility's spending was justified, it could then pass costs on to customers via rate increases.