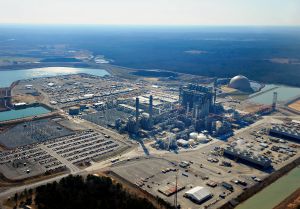 Mississippi Power files Kemper refund plan with regulators
By Steve Wilson | Mississippi Watchdog | July 22, 2015
Some 300,000 past and present Mississippi Power customers will begin receiving their share of a $353 million refund within the next three months.
The power company filed a court-ordered plan Tuesday with the Mississippi Public Service Commission on how it will refund money billed to customers since 2013 to help fund the controversial Kemper Project integrated gasification power plant, now billions over budget and two years behind schedule.
The PSC terminated the 2013 increase of 18 percent to comply with a Mississippi Supreme Court order in a lawsuit brought by Hattiesburg businessman Thomas Blanton.
The Court cited the lack of a prudency hearing — which would've determined whether customers or the utility would've been liable for the added construction costs for the plant — as one of its key reasons to void the cost increase.
Mississippi Power said in the filing it will take 60 days from PSC authorization to calculate the appropriate refund for each customer, which the company said it cannot begin doing until it closes its July books. The utility will file a notice with the PSC once it is ready to issue refunds.
Once the notice is issued, customers will have the option of a bill credit or a check, the latter of which they should receive within seven to 10 days.
The utility indicated in its proposal it would ask the PSC to help defray "programming costs, postage, printing, call-center supplemental labor, and third-party vendor fees." If cost recovery is approved, customers could see a charge on their bills once refunds are complete.
There will be a comment period and the PSC will address the Kemper refund plan and a possible rate increase proposal at its next meeting Aug. 6.
The utility filed a rate proposal that would reinstate that 18 percent increase, which expired Monday, to help cover more than $1 billion in costs on the Kemper Project's combined cycle plant. The rate proposal, which would generate an additional $159 million per year, would pay for transmission lines and natural gas and water pipelines.
The utility said it would return to the commission at a later date seeking more rate increases to help pay for the plant's gasifier, which the company now says will be in operation in the first quarter of 2016.
RELATED: Kemper green-energy plant at risk as key contract deadline passes
The $6.229 billion plant is designed to convert lignite coal into a natural gas-like substance called synthesis gas to burn in its electricity generating turbines, which have operated on natural gas since August.