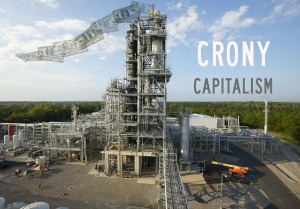 Mississippi Development Authority turns gold into straw with KiOR
By Steve Wilson  /   October 14, 2015  /  www.MississippiWatchdog.org
In 2011, then-Gov. Haley Barbour told the Columbus Dispatch that KiOR's process to turn wood products into gasoline was "almost like making gold out of straw."
To many, it seemed like a bright idea at the time. Gasoline was more than $3 per gallon at the pump and Mississippi has plenty of pine forests. KiOR's plant in Columbus, in eastern Mississippi, was to be the first of several that would spend up to $85 million in the Magnolia State on wood products and labor. KiOR had a patented process using catalysts to turn wood pulp into gasoline that sounded almost too good to be true.
The Mississippi Development Authority (MDA) provided a $75 million no-interest loan in 2010 to now-bankrupt biofuel producer KiOR to build a $230 million plant in Columbus. The facility never met its production goals before shutting down in 2014. Equipment from the plant, which was designed to turn pine trees into gasoline,was sold for $1.7 million to the Renewable Energy Group and to Georgia Renewable Power, which paid $2.1 million, according to the Columbus Dispatch.
Related: KiOR presents cautionary tale for 'green' government investments
After the facility's tax debt to Lowndes County is paid, state taxpayers will likely receive straw rather than the gold they were promised.
MDA said in a statement that it spent a year trying to sell the facility to no avail, and determined that it was in the "state's best interest" to sell off the plant's equipment. The agency also said it was "still committed to its
comprehensive legal strategy to recover the maximum amount of the state's investment possible."
While the state's case against Pasadena,Texas-based KiOR continues in federal bankruptcy court and in Hinds County Chancery Court, there likely won't be much left on the carcass of the biofuel company to pay back more than $69 million owed to taxpayers.
After it opened in 2012, the Columbus plant was in a steady production state only intermittently and was shut down just two years after opening. According to the company, the plant had a capacity of 13 million gallons of gasoline and other fuel products, but sold only 5,000 gallons of gasoline, diesel and fuel oil in 2013 and 39,000 gallons in the first three months of 2014 before shutting down. That adds up to 0.3 percent of the plant's capacity.
Under Barbour's leadership, Mississippi chased multiple bad green energy ideas. The state lost money and still owns the building from Twin Creeks Solar, which stayed open for barely a year after receiving $26 million in state loans. The state also helped finance the building of Stion Solar's plant in Hattiesburg with a $75 million loan. That company hasn't met its job creation goals, employing 120 when 1,000 jobs were promised.
Khosla Ventures  — a venture capital firm owned by former Sun Microsystems founder Vinod Khosla that invests heavily in green energy — was behind both KiOR and Stion.
Related: Green energy projects in Mississippi fail to meet job-creation goals
Overall, MDA has spent more than $1.5 billion in the last three fiscal years recruit industry to the state, finance job training and promote tourism. MDA spent more than$411 million in fiscal 2014, more than $374 million in fiscal 2013, and $750 million in 2012.
Until green energy subsidies came on the scene, the state's cautionary tale on bad investments with taxpayer funds was the Yalobusha County beef plant, which cost $55 million in guaranteed loans. The state recovered only $3.9 million from that project, which failed a few months after opening in 2004.
If state taxpayers aren't able to get much of their money back on the KiOR fiasco, there needs to be a new standard for failed "investments" of taxpayer funds. The king of bull is no longer a beef plant, but one that was designed to turn trees into fuel.