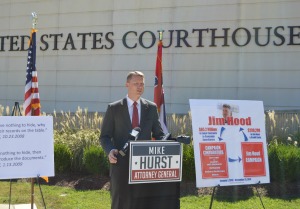 Mississippi attorney general awards large legal contracts to contributors
By Steve Wilson  /   October 28, 2015  / www.MississippiWatchdog.com
In three terms as Mississippi's attorney general, Democrat Jim Hood says he has won more than $300 million in jury awards while fighting "on behalf of Mississippians" in lawsuits against pharmaceutical companies, insurance companies, banks, tobacco companies, BP and Microsoft.
In those cases, the private law firms Hood hired earned more than $65 million in contingency fees. It may surprise no one that, in Hood's campaign for re-election, those same firms are huge contributors both to Hood directly and to his largest donor, Watchdog.org has found.
Hood's Republican opponent in next Tuesday's election, former assistant U.S. Attorney Mike Hurst, is making a campaign issue of the AG's relationship to powerful law firms.
But Hood defends the practice as smart business – and essential in his fight against "corporate corruption."
"If I were a Republican and I went out and hired private lawyers, it'd be called privatization," Hood said at last month's Stennis Press Forum luncheon. "The Legislature is not going to appropriate $40 million to hire lawyers who understand securities fraud because there isn't a securities lawyer in Mississippi. They're in New York and other places. We need that expertise. We don't need to be paying some lawyer $300,000 per year to wait on a securities case." Hiring the outside firms to battle corporations in Mississippi is "wise and efficient," he said.
The practice of hiring private law firms to attack businesses in court – and to accept campaign contributions from those same firms – strikes reformers as the sort of corruption Hood claims he's fighting.
"Jim Hood and his predecessor [Mike Moore] are among the most notable or infamous for this 'pay to play' racket," said Darren McKinney of Washington, D.C.-based Americans for Tort Reform. "The public interest is being sacrificed for the profit-seeking interest of these law firms and the ambitious politician who holds the attorney general's office at the moment."
ATRA is a non-partisan group dedicated to reform of the civil justice system. Hurst signed a pledge with the American Tort Reform Association to accept  no campaign contributions from attorneys or firms that seek to represent the state in court as outside counsel.
McKinney says states take another hit from what he calls "pay to play."
"When a state gains a reputation as a state where speculative litigation is being driven by a conflicted and personally ambitious attorney general, businesses are going to stay out of that state. Future job seekers are going to be losers. Consumers are going to be losers, because litigation costs have to come from somewhere."
Some of the  biggest contributors to Hood and the Democratic Attorneys General Association are law firms with contracts to engage in litigation on behalf of the state of Mississippi, firms that receive a legally limited, yet healthy share of the proceeds.
DAGA is a left-leaning political action committee that raises campaign cash for Democratic candidates for attorney general posts nationwide. It has given Hood$300,000 this year, $550,000 in 2012 and $850,000 in 2008.
Walter Olson, a senior fellow at the libertarian Cato Institute's Center for Constitutional Studies and the author of four books on tort reform, says DAGA is acting almost as a cutout for law firms to get contributions to state attorneys general.
"With DAGA, you have a history of a donation from an interested party, like a law firm, to DAGA, which is followed, sometimes very closely time-wise, by a donation from DAGA to a favorite attorney general," Olson said. "It doesn't look as bad since it came from DAGA and not a lawyer and it's very hard to prove whether or not it was intended to accomplish the same effect as a donation from a law firm."
In 2014, Brent Hazzard, the principal of Hazzard Law LLC, gave Hood $10,000. That same year, Hazzard Law LLC received more than $4.7 million for legal work in litigation against the chemical company BASF in an alleged price-fixing scheme. The state received $22.5 million in 2014 from the settlement, in which BASF admitted it conspired to fix the price of vitamins and other supplements.
On Sept. 18, 2014,  Cohen Milstein Sellers & Toll PLLC gave Hood $1,000 and also gave DAGA $15,000 in 2014 and $25,000 in 2012. In March, it received more than $5.4 million in contingency fees from litigation against Standard & Poor's on behalf of Mississippi. The state sued S&P over alleged inflation of its ratings on mortgage lenders that might have helped ignite the 2008 financial crisis. The state received $33 million from the settlement.
The firm received more than $858,000 from litigation for alleged mortgage-backed securities fraud by Countrywide Financial and Merrill Lynch before their acquisition by Bank of America.
In 2011 and 2013, the law firm Zimmerman Reed PLLP contributed a total of $20,000 to DAGA.
In 2012, Zimmerman Reed PLLP received more than $405,000 in contingency fees from its legal work against Hitachi for alleged price fixing on liquid-crystal display panels. In 2014, it received more than $1.1 million for legal work against LG, also accused of alleged price-fixing on LCD panels. This year, it received more than $465,000 for legal work against Chi Mei Optoelectronics Inc. and $1.3 million in a lawsuit against AU Optronics for alleged price-fixing on LCD screens. The companies settled with 24 states in 2012.
Links to Hood's campaign finance filings: 2015 2014 2013 2012
The Legislature has passed some reforms. In 2012, Gov. Phil Bryant signed into law House Bill 211. The Sunshine Act limited the amount of contingency fees that outside counsel could collect, forced outside litigators to keep detailed time records and required the AG to post litigation contracts and awards on his website. It also created the Outside Counsel Oversight Commission, composed of the governor, the lieutenant governor and the secretary of state, to approve all outside litigation contracts along with the power to waive limits on contingency fees on a case-by-case basis.
Related: Mississippi AG candidates trade barbs over public corruption fight
Contingency fees are capped at 25 percent for awards up to $25 million, 20 percent for awards between $10 million and $15 million, 15 percent for awards between $15 million and $20 million, 10 percent for awards between $20 million and $25 million, and five percent for any award exceeding $25 million.