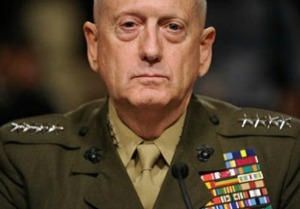 Mattis to NATO Allies: Pay Your Fair Share
Defense Secretary James Mattis met in Brussels Wednesday with the defense ministers of our NATO allies. His message was characteristically
honest and blunt
:
"I owe it to you all to give you clarity on the political reality in the United States and to state the fair demand from my country's people in concrete terms," Mattis said. "America will meet its responsibilities, but if your nations do not want to see America moderate its commitment to the alliance, each of your capitals needs to show its support for our common defense."

…Mattis, a retired Marine general, recalled Wednesday that when he was NATO's supreme allied commander of transformation from November 2007 to September 2009, he watched as then-Defense Secretary Robert Gates warned NATO nations that Congress and the American people "would lose their patience for carrying a disproportionate burden" of the defense of allies.

That impatience, Mattis said, is now a "governmental reality."

"No longer can the American taxpayer carry a disproportionate share of the defense of western values," Mattis said. "Americans cannot care more for your children's security than you do. Disregard for military readiness demonstrates a lack of respect for ourselves, for the alliance and for the freedoms we inherited, which are now clearly threatened."
Way to go, Mad Dog.
NATO countries have pledged to spend at least 2 percent of their gross domestic product on defense. Of the 28 member nations, only five have accomplished this modest goal: Estonia, Greece, Poland, the UK, and the US. That leaves 23 nations leaning on American largesse for their preservation.
To continue reading:https://ricochet.com/411297/mattis-nato-allies-pay-fair-share/
About Administrator