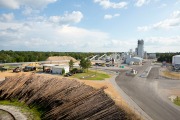 KiOR presents cautionary tale for 'green' government investments
Mississippi has become part of a cautionary tale with its taxpayer-funded investments in green energy.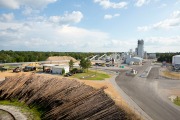 By Steve Wilson  /   January 21, 2015  / www.missisppiwatchdog.org
Photo Credit: KiOR
Mississippi has become part of a cautionary tale with its taxpayer-funded investments in green energy.
When then-Gov. Haley Barbour announced in 2010 the building of KiOR's biofuels plant in Columbus, excitement ran high. The state would be getting in on the booming green energy sector in a big way and would add some critical jobs during a downturn in the nation's economy.
Gas was $2.83 per gallon and turning Mississippi's seemingly never-ending supply of pine trees into gasoline made some sense, especially when the price at the pump later soared to a national average over $3 per gallon.
The state gave the biofuels company a $75 million, no-interest loan to construct a plant that would turn wood pulp (biomass) into gasoline and diesel fuel. The company planned the Columbus facility as a first step and promised to build an even larger plant in Natchez, on the Mississippi River, in what was to be a $500 million investment and another plant in Franklin County.
Barbour promised the company would spend $85 million per year in the state on labor and wood products.
Those hopes are forever dashed.
The state has filed a lawsuit to try to recover some of the more than $69 million it's owed, alleging the company committed fraud by lying about the amount of fuel it could create — using its patented catalytic process — from wood in order to secure state financing. The Pasadena, Texas-based company, which filed for bankruptcy protection in November, has accused the state of chasing away potential buyers. KiOR's Mississippi subsidary, however, wasn't included in the bankruptcy proceedings.
In 2010, it appeared as if gas would be more than $3 per gallon for the foreseeable future, but just four years after Barbour's announcement, gas prices were down to an average of $2.60 per gallon nationally and still falling. When politicians do the investing, they usually aren't looking past the next election.
"The heart of the problem is government intervening in private sector activities where they shouldn't be," Nick Loris, senior policy analyst in Heritage's Roe Institute for Economic Policy Studies, told Mississippi Watchdog via email. "Politicians use taxpayer dollars to hand out to projects and get to claim their policies helped create jobs, which helps them come election time.
"It creates a vicious cycle of lobbyists and bureaucrats determining what energy we produce and consume and it costs Americans both as taxpayers and energy users because we end up paying higher prices."
KiOR's Columbus plant sits quiet in what the company called "an idle state." After it opened in 2012, the plant was in a steady production state only intermittently and was shut down last year. According to the company, the plant had a capacity of 13 million gallons of gasoline and other fuel products, but sold only 5,000 gallons of gasoline, diesel and fuel oil in 2013 and 39,000 gallons in the first three months of 2014 before the plant was shut down. That adds up to 0.3 percent of the plant's capacity.
All of this could've been avoided had the state decided not to invest taxpayer funds in a questionable project. The state also sunk $26 million into building a solar panel plant, Twin Creeks, near Senatobia in Tate County. The company went bankrupt and while the state was able to recover some of the lost funds after filing a lawsuit, the building still sits vacant, with taxpayers holding the deed.
KiOR and Twin Creeks are proof that nothing good usually comes of taxpayer funds chasing "the next big thing." Especially when the only green involved is taxpayer funds.
"The green energy economy is mostly a fallacy because it's largely government-engineered," Loris said. "Rather than trying to force technologies into the marketplace with taxpayer money, we should allow the market to determine what provides us with the most affordable, reliable energy."