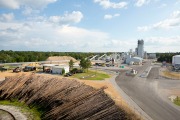 KiOR announces $347M loss for 2013
Does this remind you of the Monty Python scene with the knight with missing leg and arm?
"We have substantial doubts about our ability to continue as a going concern." … Delayed 2013 results includes going concern statement. Future Khosla financing contingent on milestones. Default looms as soon as April. Financing after August unclear.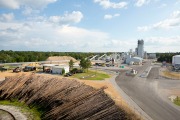 In Texas, KiOR announced a $347.5M net loss for 2013, and issued a "going concern" statement that focused on its ability to raise future capital to sustain operations and build its next plant.
In a 10-K filing with the SEC made today, the company said that "Currently, we have ceased work on a series of optimization projects and upgrades at the Columbus facility and are bringing the facility to an idle state," and warned:

"If we are unsuccessful in finalizing definitive documentation with Mr. Khosla on or before April 1, 2014, we will not have adequate liquidity …This will likely cause us to default under our existing debt and we could be forced to seek relief under the U.S. Bankruptcy Code."
In today's Digest, the relevant excerpts from the KiOR 10-K – the cessation of operations – details on reliability trouble and bottlenecks in the BFCC, hydrotreater and wood yard — the financing peril for 2014 — the prospects for 2015 — all about it at biofuelsdigest.com.
BioFuel Digest, March 18, 2014.
[topic=http://campaign.r20.constantcontact.com/render?llr=5kkymgcab&v=001-uqe82qIMgnCpueiUDLNDcNZg-hltN0-wS9IQDNBvb0fgI8F2WLtGM9pgbAlvXrBPibtgpAww7cEEKk4l6YKsmrZ7xjnE0YOQwVh6YzT-8-t_SrV4IEkf2kQg_JBUJXk-nVsidGNo5DzlkVMIgENNVe8ZjAJnLKOhbD7tKWNn72J1ioYFMb0Ig%3D%3D]