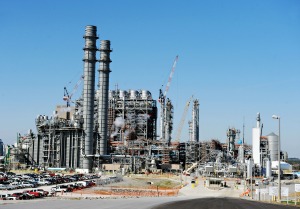 Kemper Project's completion date could be pushed back again
By Steve Wilson  /   September 30, 2015 / www.Mississippiwatchdog.org
Mississippi Power admitted in a filing with the U.S. Securities and Exchange Commission Tuesday that the Kemper Project clean coal power plant could be completed later than expected — and costs are rising yet again.
The utility said it "continues to expect" the first-of-its-kind integrated coal gasification power plant in eastern Mississippi to open in the first half of 2016, but now anticipates that date to be around April 19, more than two years
behind schedule. It's been running on natural gas since last August.
The plant's costs also increased $15 million, boosting the project's total cost to $6.267 billion. The utility blamed the increase on "startup and commissioning activities, as well as operational readiness."
The April 19 date is important, because if the plant isn't completely operational by then, the utility will have to return $234 million in investment tax credits to the Internal Revenue Service.
Last month, the utility announced a $25 million cost increase for the Kemper Project in August after reporting a $9 million increase in June. The utility files monthly progress reports on Kemper with the Mississippi Public Service Commission.
The company said any delays past March 31 would result in monthly costs ranging from $25 million to $30 million. According to the company, these costs could increase even more to correct equipment and design issues and would not be subject to the $2.88 billion cost cap that could be collected from Mississippi Power's 186,000 customers by rate increases.
The PSC passed an 18 percent temporary rate increase last month that's designed to cover the $1.1 billion in costs on the combined cycle plant — which contains electricity-generating turbines, transmission lines and other associated equipment — and keep the company solvent.
Thomas Blanton, the Democratic candidate for the Southern District PSC seat, has asked the Mississippi Supreme Court to stop the temporary increase with another order. The court previously ordered the company to refund $350 million in rate increases, the result of a lawsuit brought by Blanton.
Related: Kemper Project makes for an expensive natural gas plant
The commission will hold a hearing Nov. 10 for permanent rates on the combined cycle and other working plant assets and will issue a ruling by Dec. 8.
The court ruled the company could not collect rate increases before the PSC decides, in a prudency hearing, whether the spending on construction was justified. If the commission rules the utility's spending was justified, it could then pass costs on to customers via rate increases.
The PSC, in an order from last August, said it wouldn't take up prudency hearings on the Kemper project until it's placed into "commercial operation" and demonstrates its availability for a "reasonable period."