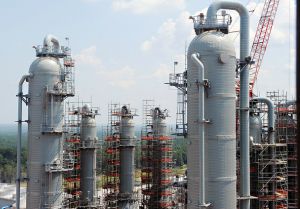 Kemper carbon dioxide buyer says plan is still in place
By Steve Wilson  |  August 18, 2015 | www.mississippiwatchdog.org
Denbury Resources says it still plans to buy carbon dioxide from the Kemper Project integrated gasification power plant despite the company's recent tumbling fortunes.
Dan Cole, Denbury's vice president commercial development and governmental relations, told Mississippi Watchdog the company is committed to its contract with Mississippi Power, which is building the plant.
"We have no intention or any reason to terminate our agreement with Mississippi Power," Cole said. "We have, over the last nine to 12 months…been digging into every field we operate or is that is currently being flooded (with CO2)
to determine if we're using carbon dioxide in the most efficient manner."
Denbury is cutting its workforce and has reduced by 25 percent the amount of carbon dioxide it's buying nationally to pump into oil wells for enhanced oil recovery. The company says the reduction is due to improved processes and isn't strictly a cost-cutting exercise.
Both Denbury and Mississippi Power are optimistic the CO2 contracts will benefit both parties.
"We believe the market is still there with demand for the CO2 even with the low oil prices," said Mississippi Power President and CEO Ed Holland. "But we also don't think oil prices are going to stay in the $47 to $48 (per barrel) range. If they, in fact, get into the $55 to $60 a barrel range or even higher, which some people are predicting, certainly CO2 from the plant would be a cost-effective way to produce oil out of Mississippi oil fields."
When Denbury, a Mississippi-based subsidary of Texas-based Denbury Resources Inc., entered into its contract for 70 percent of Kemper's CO2 with Mississippi Power in March 2011, its shares traded for around $25. As of Monday, its shares were worth$3.85. In the second quarter of 2015, Denbury endured a $1.1 billion net loss and its first-half revenues from oil and natural gas production are down 48 percent.
According to a reports obtained from the Mississippi Oil and Gas Board, production from Denbury wells in Mississippi is down 2.5 percent in 2015 so far over the same span last year.
David Kreutzer, the research fellow in energy economics and climate change at the conservative Heritage Foundation, says oil production support companies nationwide are feeling the pinch.
"Anything that's used to generate more oil has seen their market decline, whether it's the oil field service companies or the drilling companies and so on," Kreutzer said. "Anybody that is providing an input to produce oil is seeing their demand go down as the price of oil softens. That would be true for Kemper's CO2 as it would be for Haliburton."
Kemper is designed to convert lignite  — the second lowest grade of coal — into a natural gas-like substance called synthesis gas to be burned in the plant's turbines to generate electricity. The carbon dioxide is taken from the gas stream as it heads from the gasifier, which is supposed to enter service in the first half of 2016, to the turbines, which have been running on natural gas since last August.
The removal of carbon dioxide is one of the key components of Mississippi Power's business plan with Kemper, as the company projected annual byproduct sales of $50 million to $100 million for the life of the plant. The contracts with Denbury and Treetop Resources LLC — the other company with a carbon dioxide contract — both had out clauses that could've been exercised in May 11. Neither company terminated their contracts.
The removal of 65 percent of carbon dioxide from the gas stream is central to the company qualifying for tax credits of more than $279 million and to the company's air permit. Mississippi Power built a 61-mile pipeline to Denbury and Treetop, but the Kemper facility has no CO2 storage facility, meaning the pipelines are the only way to dispose of the plant's CO2.
Cole said buying Kemper's CO2 was a move designed to supplement and eventually replace natural CO2 obtained from the Jackson Dome geologic formation in Mississippi, the largest underground source of natural CO2 east of the Mississippi River. The company also buys CO2 from two other industrial sources in Texas and Louisiana.
"Jackson Dome C02 is a large reservoir, but it is a finite amount of CO2," Cole said. "In the future, the supply from Jackson Dome may not be enough unless we do further development or unless new technology comes along that identifies new reserves there."
In an affidavit filed in a lawsuit over CO2 prices paid by Denbury to mineral rights owners with CO2 rights in the Jackson Dome, the company said Kemper's air permit could be in jeopardy if the CO2 isn't sold.
"The operation of the project is subject to an air permit which effectively imposes limitations on the Project's permitted release of CO2 per year," said Allen Reaves, vice president and senior production manager for Mississippi Power in a December 2014 affidavit. "Failure to be able to deliver CO2 off-site would impact the project's operations so that compliance with environmental permits could be jeopardized, and as a result project operations would be shut down."
The price tag for Kemper is already up to $6.229 billion — billions over budget and two years behind schedule.