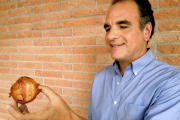 How the Bacon Bowl Gave Hope to a Tiny Town—Then Left for China
Kitchen Fad Provided Fleeting Boost to Factory in One of America's Poorest Counties – illustrates the challenges Mississippi Faces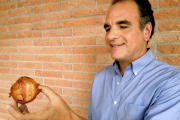 James R. Hagerty | The Wall Street Journal | Sept. 17, 2014 3:37 p.m. ET
U.S. Dinnerware CEO Steve Gluck holds a bowl made of cooked bacon. James R. Hagerty/The Wall Street Journal
PORT GIBSON, Miss.—This town of 1,500 people, in one of the poorest counties in the U.S., could use a break.
Last November, one seemed to arrive in the form of a cooking utensil—the Perfect Bacon Bowl. Hawked on national television, the plastic molds shape bacon into edible serving bowls for scrambled eggs, macaroni and cheese or even, according to the packaging, ice cream.
Related Video
U.S. Dinnerware Inc., a tiny local maker of plates and school-lunch trays, won an order to make one million bowls. Suddenly, in a town where crumbling houses perch on concrete blocks, the last surviving factory was hiring again.
It is hard to imagine the lift that one order brought to this town, which a few years earlier turned off most of its streetlights to save money. U.S. Dinnerware hired about 60 people, increasing its workforce to about 75 from 15.
When word leaked that the company was hiring, the response was overwhelming. Around 500 people applied for the 60 jobs. "We have a willing labor force," said Port Gibson Mayor Fred Reeves. "Not as skilled as I'd love them to be, but they work."
Claiborne County, whose offices are in Port Gibson, has a median household income of $24,000, less than half the national average. It is among the lowest 1% of U.S. counties by that measure. Unemployment is 14.8%, more than double the national level.
Some new hires had been unemployed for years. Working in a dimly lighted factory across a rutted road from the Claiborne County welfare office, they earned $7.25 an hour excluding bonus pay and no health-care benefits.
Among those hired was Lashonne Reynolds, mother of three and former security guard, who had been unemployed for a year. Lacking factory experience, she observed how other molding-machine tenders moved their hands and feet, and then "put my own spin on it," she said.
Beginning in November, the factory ran around the clock. "I told them we were in competition with China and we needed to darn well show we could deliver," said Steve Gluck, the 49-year-old owner of U.S. Dinnerware.
To read more: http://online.wsj.com/articles/how-the-bacon-bowl-gave-hope-to-a-tiny-townthen-left-for-china-1410982645