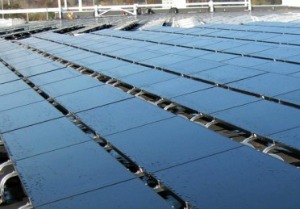 Green energy projects in Mississippi fail to meet job-creation goals
By Steve Wilson  /   June 30, 2015 | www.watchdogmississippi.com
Stion, a taxpayer-funded solar panel plant in Mississippi, has failed to meet job-creation goals four years after getting a $75 million loan to build a factory in Hattiesburg.
Frank Yang, Stion's vice president of business development, told Mississippi Watchdog via email the plant employs only 120 workers and is working at half-capacity because of "equipment bottlenecks." When the plant was announced, it was supposed to employ at least 1,000.
That's about $625,000 per job, and it's too much, says Patrick J. Michaels, director of the Center for the Study of Science at the libertarian-leaning Cato Institute.
"We've been subsidizing solar energy and windmills for decades," Michaels said. "In terms of the amount of money spent per unit of power output, any subsidy for fossil fuel, which I don't agree with, either, would pale in comparison in what is being spent on solar energy. They're (solar and wind) kind of like electric cars. I don't think they're going to roll on their own four wheels without the government's help. We're going to increasingly throw money we don't have at things that don't work."
With the Environmental Protection Agency's proposed Clean Power Plan demanding states lower their carbon emissions and embrace more renewable sources, an industry propped up by subsidies might get an even bigger boost. Mississippi will have to reduce its emissions from 1,140 pounds per megawatt hour — from 2012 to 692 pounds per megawatt hour — by 2030.
Yang said Stion will announce new jobs in the third quarter this year. Combined with the possible purchase of new production tools, Yang said, the company planned to have the facility producing up capacity — 120 megawatts worth of solar panels — by the end of the year, as "demand is strong."
Stion makes thin-film solar modules, which differ from the heavier and older crystalline silicon panels. These copper indium gallium selenide panels, or CIGS, are more flexible and lighter and can even, in some cases, be fashioned into shingle-like housings on roofs. According to a 2013 study that compared crystalline silicon panels with their newer
thin film kin, thin film panels were found to work better in conditions with high temperatures and lower light; crystal silicon panels were found to be more slightly more efficient at producing electricity.
Will Hegman, founder and owner of Mississippi Solar, said thin film has yet to break into the mainstream. His company installs solar systems in the Magnolia State.
"Thin film has always been there and it's always going to be the 'next' breakthrough," Hegman said. "From all of the research I've read, you'd think that it would. But nobody has been successful on thin film in the long run. It's been a tough battle. Poly crystalline and mono crystalline modules, they've been around a long time. There's nothing novel about them. There are no surprises. They're consistent."
Stion has sold some of its panels to Entergy for a solar project in Mississippi and the Southern Company for use in Georgia. Yang said the company is in discussions with other utilities to buy its panels. Now, thin-film modules account for only 10 percent of the solar panel market.
According to MDA spokesman Jeff Rent, Stion's loan payments to Mississippi are current. But KiOR isn't.
KiOR owns a plant in Columbus that converts wood pulp into fuel. The company owes the state more than $69 million on a loan to build the $214 million plant, which is idle and hasn't come close to creating the 500 statewide jobs when the plant was announced.
KiOR is in Chapter 11 bankruptcy, and its plant sits idle after receiving a no-interest $75 million financing package.
The companies are examples of former Gov. Haley Barbour's attempts to invest taxpayer money in green energy projects. Khosla Ventures — a venture capital firm owned by former Sun Microsystems founder Vinod Khosla that invests heavily in green energy — backed both projects.