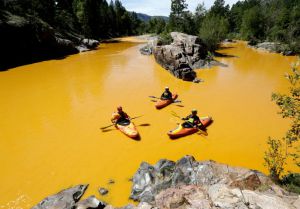 Gold King Mine spill exposes Obama hypocrisy, threatens EPA credibility, critics say
By Ben Wolfgang – The Washington Times – Monday, August 10, 2015
The political fallout from last week's toxic spill at Colorado's Gold King Mine intensified Monday, with critics saying the incident has exposed clear hypocrisy within the Obama administration while threatening the credibility of the Environmental Protection Agency at a crucial moment.
Rather than express outrage as it has done in the wake of previous environmental disasters, the White House would not comment on the spill and instead directed all questions to the embattled EPA.
The agency, meanwhile, remains under intense fire after its contractors accidentally breached a dam at the mine last week and sent toxic sludge flowing into the Animas River. The contaminated water has spread to New Mexico, Arizona and Utah, and EPA officials were forced to concede that more than 3 million gallons were released into the river — a much higher amount than the agency's initial estimate of 1 million gallons.
The fluid contains lead, arsenic and other heavy metals.
Although not comparable in magnitude, the spill in some ways is reminiscent of BP's 2010 oil spill in the Gulf of Mexico, which famously led President Obama to say he was looking for someone's "ass to kick" in response and prompted Ken Salazar, the interior secretary at the time, to vow to keep his "boot on the neck" of BP.
This time, with a federal agency responsible for the spill, the talk hasn't been so tough.
Critics say the administration is exercising a clear double standard by failing to demand the kind of accountability — including the firings of those responsible — that it has demanded of private companies.
They also say the EPA has seriously damaged its own credibility by failing to reveal the incident until a day later, and by initially downplaying the size of the spill.
"Their response has been terrible. They've hedged the truth, if you will, which puts people in jeopardy because it turns out it's much worse. They're doing precisely the sorts of things they level charges at other people for doing," said Dan Kish, senior vice president for policy at the conservative Institute for Energy Research.
"It's ironic in a lot of ways because, typically, when big, iconic things happen like this, they spend a huge amount of time trying to throw gasoline on the fire," Mr. Kish said. "They always tell us they're right, everybody is wrong. In this particular case, they've got their hands full."
The spill has prompted threats of lawsuits from American Indian tribes and others who say the EPA must be held accountable for damage to the environment. Lawmakers on Capitol Hill also want answers from the agency, which has admitted full responsibility for the incident and has begun a mammoth cleanup effort.
To read more: http://www.washingtontimes.com/news/2015/aug/10/gold-king-mine-spill-exposes-obama-hypocrisy-threa/