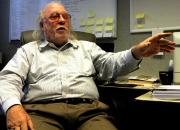 Fight the power: Thomas Blanton is the man who took on Mississippi Power over Kemper plant – and won
Hattiesburg oilman Thomas Blanton has won an appeal on his $300 million class action lawsuit against Mississippi Power Co. over their rate increases due to cost over-runs on the Kemper County lignite plant.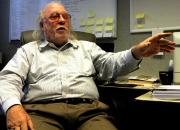 BY PAUL HAMPTON | www.sunherald.com | jphampton@sunherald.com | February 21, 2015
Photo credit:GEORGE CLARK/SPECIAL TO THE SUN HERALD
HATTIESBURG — Thomas A. Blanton is a theologian.
And a student of Jean Lafitte.
An oilman.
And an environmentalist.
A rock 'n' roll impresario twice over.
And a protest singer with an unreleased album.
A fan of Mark Twain.
And Uncle Remus.
A community organizer who can direct the distribution of thousands of campaign cards a day.
And an unsuccessful candidate for the Public Service Commission.
A strict constitutional constructionist.
And a Democrat.
A cancer survivor.
And a professional hell-raiser.
He resists labeling. You could say he was eclectic. Even his friends allow he's a bit eccentric.
With his white hair flowing down his back, an eye lost to cancer and a beard gone wild, he's the image of a pirate. But he says the only thing he's interested in raiding is the corporate boardrooms of those interested in pocketing a fortune at the expense of the little guy, or the planet.
He's well known in South Mississippi as the man who took on Mississippi Power and the state's Republican political machine over the baseload act and subsequent rate increases for electricity meant to pay for the Kemper County power plant.
His calling
"I was finishing school in '77 — Harvard Divinity School — and got a degree, master's of divinity. It's a three-year professional degree," he said.
"I knew I wasn't supposed to be a minister but I felt called. And I just had this really powerful feeling I needed to move back to Mississippi."
During summers at Harvard, he worked for Massachusetts on environmental issues such as energy conservation, garbage burners and curbside recycling.
"We let computers route the garbage trucks," he said. "We saved 18 percent in one year. The same thing for school buses."
By the time he returned home, it was evident his calling was environmental activism.
"Three weeks later, they announced Richton (salt domes) was going to be a nuclear dump," he said. "Spontaneously, all these different people began having meetings. Several hundred here in Hattiesburg and on the Coast a thousand. Everybody rose up."
Among those rising up was Stan Flint, who runs The Consulting Group in Jackson, which lobbies on a variety of issues before the Legislature.
"(Blanton) has carried that fire-in-the-belly commitment to the little guy, commitment to true democracy, commitment to participation in true democracy," Flint said. "He's always been on the side of what's right. He sometimes does it a little more eccentrically than the others might do it but it's because of people like Tommy … who delayed their lives for 12 years to do something about a proposal that became universally hated in the state. And for good reason, because it was a really bad idea."
Priceless knowledge
Flint said Blanton's background in the oil business, which he got into in the late 1970s, was priceless to the cause of stopping a plan to store radioactive waste in the state's underground salt domes.
"Whether he was talking to scientists about radionuclides leaking from salt stock or addressing a botanical society," he said, "he has a core of unassailable scientific knowledge and dogged persistence.
"And he was doing it all out of his back pocket."