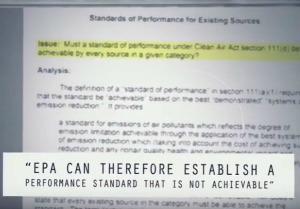 Emails show indications that the EPA is corrupt – kowtows to green groups
Anthony Watts / 3 days ago September 20, 2016 / www.wattsupwiththat.com
E&E Legal Releases Updated Report with New Emails and Video Detailing Extensive Collusion Between EPA and Green Activists in Writing 111(d), 111(b) Rules
Washington, D.C. – Today, after a long-delayed, nearly 500-page document production from EPA last week, the Energy & Environment Legal Institute (E&E Legal) updated its report detailing the degree to which EPA worked with outside special interest groups such as the Sierra Club, Clean Air Task Force and NRDC to craft its global warming rules. This report includes new revelations about senior EPA officials' work on what one called an "offline channel" with reporters, industry lobbyists and green groups on numerous EPA rules with the intention to circumvent federal record keeping and transparency laws. These are included in an appendix to the report. Even Democratic congressional aides sought to use the "offline" account to coordinate on EPA issues.
As regards EPA's greenhouse gas rules, one of which faces a major challenge next Tuesday before the full D.C. Circuit Court of Appeals, these emails show how EPA, rather than using its own experts to craft a rule in the public interest, chose to allow outside groups to draft its core foundations.  Outside activists — who this report shows one senior EPA official, a political appointee, even agreed to raise money for in what would be a thoroughly unethical use of appointed office — drafted and provided their proposed key elements of the plan, and other comments to EPA officials, on the officials' private email accounts. The report details the correspondence and how those outside special interest groups were allowed to produce EPA's GHG "Options memo".
Worse, because the comments and drafts of outside special interest groups were not incorporated into the comments docket or the Federal Register, the public never knew about what EPA was up to or who authored the proposed rule, and was deprived of its opportunity to meaningfully comment on EPA's backdoor dealings.  This makes EPA's rule illegal.  A new video also released by E&E Legal at the same time details much of this evidence, which the D.C. Circuit ruled it will not consider in determining whether the rules will survive before last week's document dump.
To continue: https://wattsupwiththat.com/2016/09/20/emails-show-indications-that-the-epa-is-corrupt-kowtows-to-green-groups/