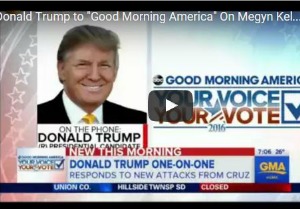 Donald Trump calls out Haley Barbour on 'GMA'
By Angela Williams | UPDATED 12:05 PM CST Jan 26, 2016
JACKSON, Miss. —With less than a week until the Iowa caucuses, Donald Trump is neck and neck with Ted Cruz, while the other Republican candidates for president trail behind.
About 5 minutes into the interview, Stephanopoulos asked Trump about comments that the ABC anchor said were made to the New York Times by former Mississippi Gov. Haley Barbour. The article actually quoted Henry Barbour, the former governor's nephew and a Republican strategist.
"You've got a lot of top Republicans nervous, including Haley Barbour, in this morning's New York Times saying, 'The establishment should rally behind anyone not named Cruz or Trump after Iowa and New Hampshire.' How do you respond?" Stephanopoulos asked Trump.
"Well, look, he's an old-time politician, and he's been up in my office looking for money for many times," Trump said. "He's an old-time politician who's losing his grip, and frankly, I haven't heard the name Haley Barbour ever mentioned in a year and a half, and I guess people don't like to get out.
To Continue: http://www.wapt.com/news/central-mississippi/jackson/donald-trump-calls-out-haley-barbour-on-gma/37642928