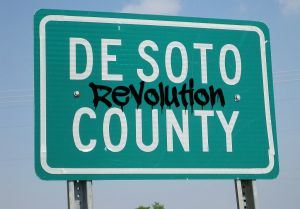 DeSoto County replaces four incumbent legislators in GOP primary
By Steve Wilson | Mississippi Watchdog | August 11, 2015
DeSoto County in North Mississippi, a suburb of Memphis, is the state's fastest growing county and boasts some of the highest-rated public schools in the state.
It's s an unlikely spot for an education revolution.
But, on Election Night last week in the county's Republican primary, four state House representatives lost to challengers financially supported by Empower Mississippi, a pro-school choice PAC. It spent more than $110,000 on the DeSoto races, had 13 of its supported candidates win outright with two more headed to runoffs.
Dana Criswell will replace three-term state Rep. Forrest Hamilton in District 6, and FedEx employee Steve Hopkins beat 18-year incumbent state Rep. Wanda Jennings in District 7. Teacher Ashley Henley knocked off one-term state Rep. Pat Nelson in District 40, and youth minister Dan Eubanks took out one-term state Rep. Gene Aldayin District 25.
Criswell and Hopkins have no further opposition; Henley and Eubanks will have Democratic candidates to battle in the general election.
Related: Suburban mayor paid more than Mississippi governor
DeSoto is heavily conservative, supporting state Sen. Chris McDaniel in his unsuccessful bid to unseat U.S. Sen. Thad Cochran last summer in both the GOP primary — 9,129 votes or 62.86 percent — and the runoff — 13,758 votes or 69.51 percent.
The DeSoto incumbents' collective record on supporting educational choice isn't good. Three of the four of the defeated incumbents voted against both the educational savings account bill for special needs children passed last
session and against a bill to allow charter schools. As a result, three of the four received an F on Empower's school choice scorecard. Alday got a C grade for voting for the charter school legislation but against what was termed the "Special Needs Bill."
"If you want to be a conservative in Mississippi, you can't leave your conservative principles at the door when you approach education policy," said Grant Callen, founder and president of Empower Mississippi. "We take our conservative principles that says decisions ought to be made as close to the individual as possible and take that into education policy, and those principles will serve us well.
"If you want to be a conservative in Mississippi and deny parents across the state of any educational choice, you're going to find it harder and harder to defend your conservative principles to the voters. In DeSoto, the voters saw right through it."
Related: Mississippi Republicans face key issues in 2015 statewide elections
Criswell, an Olive Branch resident and pilot for FedEx, said he was fed up with his representative, who, he believes, didn't do enough to fight against the Common Core curriculum, which he considers a federal takeover of local education.
"When I started this, I didn't know if I'd have the backing to beat a 12-year incumbent who had the backing of the (GOP) establishment," Criswell told Mississippi Watchdog. "We proved that we're ready for a change. For several years I've written on a website called Mississippi Gun News, keeping up with gun laws, and that introduced me to the law, politics and politicians.
"Through doing that, I'm grown less and less happy with the way our politicians work and interact with people. That's what started me down the path to considering running."
Related: Term limits could have unintended consequences for Mississippi Legislature
DeSoto County's campaign will disappoint political operatives looking for lessons for future campaigns from technology or other voter-outreach methods.
Callen said the quartet knocked on at least 10,000 doors. Criswell said he knocked on 4,900 and that the total for the foursome is likely quite higher.
Nathan Shrader, an assistant political science professor at Millsaps College in Jackson, said any challenger needs three key items to emerge victorious.
"Upsetting one, but four incumbents in one area or even one county, that's the kind of thing I don't think you can just pull off just with a single candidate running on their own personality, which sometimes contributes to an upset win with a very good candidate that is very likeable," Shrader said.
"This has the markings of those three things  — money, message and organization  — money, message and organization — that they did have money, they had a message that was very well planned out and executed and also having a well-oiled campaign apparatus."
Callen said electing legislators friendly to school-choice issues is the only way to add needed competition in the form of education savings accounts and charter schools in Mississippi. He said expanded ESA and charter school legislation could be on the horizon next session, which starts in January.
"We will supporting legislators who've taken courageous votes to support giving parents more educational options and we're going to be looking challenger candidates against incumbents who didn't," Callen said. "We've only begun as a state to give parents educational options. I'm excited about a new cast of legislators coming in January that are more conservative, more energetic and ready to continue to expand school choice programs to give parents more choice."