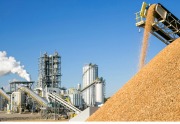 Death May Be Knocking On KiOR's Door
Summary:
* KiOR has until April 1 to score financing or it may file bankruptcy.
* A formal SEC investigation looms.
* There were several hints that both of these were coming.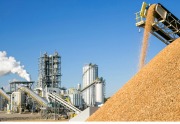 Things have turned from bad to worse to terrible for KiOR (KIOR). Based on its 10K filing with the SEC, the biofuel company's very survival is now at stake. With the company now starved for cash, its facility shut down, and a formal SEC investigation ongoing, there were a number of clues beforehand that investors should have seen coming.
The current situation
On March 17, KiOR filed its 10K. The low revenue and high net losses are the least of its concerns. The two major problems facing it immediately are its cash position and the SEC investigation.
First, the filing warns that KiOR only has one potential source of financing, and that source is "conditioned on the achievement of certain performance milestones." While those milestones aren't spelled out in the filing, the plant is currently non-operational so it's hard to imagine any milestones being met.
KiOR has given itself until April 1, which is days away, to come up with the financing. If it fails, the company says it will be forced to file bankruptcy. Even if it is successful in achieving the financing, KiOR warns that it would only carry it until August 31, 2014 at which point it will need new sources of financing.
Second, and this certainly can't be helping KiOR achieve financing, the SEC served the company with a subpoena back on Jan. 28 "pursuant to a formal order of investigation, seeking documents about, among other subject matters, the progress at its Columbus facility and the timing of projected biofuel production levels." Usually SEC investigations start out as inquiries or informal investigations so it's more than likely the investigation has been ongoing months before then.
Warning signs
It's not like investors should have been completely surprised. There are some lessons here to look for with other investments. Consider the two big warning signs.
First, KiOR continually missed its guidance targets sometimes by a mile. For example, halfway through the second quarter the company guided for fuel production of between 300,000 and 500,000 gallons.
Instead, the company only sold 75,000 gallons. It missed every other guidance metric after that as well. Was it deliberate while the company was raising money? That's for the SEC investigation to determine.
Second, executives abruptly quitting was a red flag. On Dec. 1 for instance, then CFO John Karnes gave a two day notice, and he was gone without a replacement. No explanation was given to the market. No press release thanking him for his service. He just packed his stuff and disappeared.
Three weeks later, Condoleezza Rice resigned from the board of directors, also seemingly without any advance notice. KiOR did seek to reassure shareholders this time. It stated, "Dr. Rice's resignation is not due to any disagreement with the Company on any matter related to the Company's operations, policies or practices."
More than likely as a member of the board of directors Rice knew full well the heat was on the company from the SEC and wanted no part of it in case the crap hit the fan. KiOR may prove to be perfectly innocent in the investigation, but as a political figure, Rice probably didn't want to take any chances. Either way her departure, right after the CFO's departure (and two days before Christmas), seemed more than coincidental.
The takeaway here is to always look for warning signs and don't disregard them. When a company continually misses guidance as KiOR did, there may be trouble already or it could invite trouble from regulatory agencies. Likewise, when executives start leaving with no notice, explanation, or replacements ready to take over, it smells fishy.
Editor's Note: This article covers a stock trading at less than $1 per share and/or with less than a $100 million market cap. Please be aware of the risks associated with these stocks.
Seeking Alpha | Green Energy Addict | Mar. 25, 2014 10:03 AM
http://seekingalpha.com/article/2107523-death-may-be-knocking-on-kiors-door?isDirectRoadblock=false&app=1&uprof=34