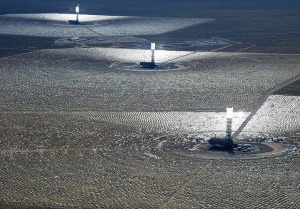 Could California's massive Ivanpah solar power plant be forced to go dark?
THE WALL STREET JOURNAL | Published: Mar 16, 2016 8:18 p.m. ET
A federally backed, $2.2 billion solar project in the California desert isn't producing the electricity it is contractually required to deliver to PG&E Corp., which says the solar plant may be forced to shut down if it doesn't receive a break Thursday from state regulators.
The Ivanpah Solar Electric Generating System, owned by BrightSource Energy Inc., NRG Energy Inc. NRG, +2.15%
and Alphabet Inc.'s GOOG, -0.58% GOOGL, -0.61% Google, uses more than 170,000 mirrors mounted to the ground to reflect sunlight to 450-foot-high towers topped by boilers that heat up to create steam, which in turn is used to generate electricity.
But the unconventional solar-thermal project, financed with $1.5 billion in federal loans, has riled environmentalists by killing thousands of birds, many of which are burned to death — and has so far failed to produce the expected power.
PG&E PCG, +0.16% is asking the California Public Utilities Commission for permission to overlook the shortfall and give Ivanpah another year to sort out its problems, warning that allowing its power contracts to default could force the facility to shut down. The commission's staff is recommending that it grant the extension Thursday.
To continue: http://www.marketwatch.com/story/could-californias-massive-ivanpah-solar-power-plant-be-forced-to-go-dark-2016-03-16