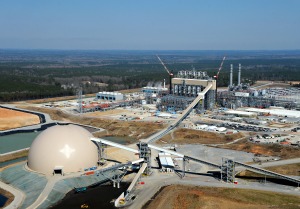 Congress could send another $80 million to Mississippi Power's Kemper plant in budget deal
By JEFF AMY  Associated Press | December 17, 2015 – 6:28 am EST
JACKSON, Mississippi — A massive federal spending bill could channel tens of millions more to Mississippi Power Co. to aid construction of its $6.5 billion power plant in Kemper County.
The language, engineered by U.S. Sen. Thad Cochran, R-Miss., could ultimately hold down rates that the company's
186,000 customers will have to pay.
Up to $160 million is available from projects that were abandoned, but Cochran spokesman Chris Gallegos wrote in an email that not all that money is likely to go to Kemper.
"This provision would redirect unused (U.S. Department of Energy) money from projects that did not get off the ground toward other projects previously selected through a competitive process that have a good chance of successfully demonstrating important new technologies," Gallegos wrote Wednesday.
Congressional leaders plan to pass the budget deal including the language in the coming days, and President Barack Obama has said he will sign it.
Mississippi Public Service Commissioner Brandon Presley said current and incoming members of the utility regulatory body wrote to Cochran asking him to redirect unused funds from other "clean coal" projects to Kemper. The Mississippi Power plant is designed to gasify soft lignite coal, strip out carbon dioxide and other pollutants, and burn the synthetic gas to generate electricity.
Presley said $80 to $100 million is likely to be directed to Kemper.
"These funds will solely be used for ratepayer protection," said Presley, a Democrat who is likely to chair the commission after Jan. 1.
A Mississippi Power spokesman did not immediately respond to a request for comment. Southern Co., the Atlanta-based parent of Mississippi Power, is absorbing $2.3 billion in overruns. However, customers could be asked to pay as much as $4.2 billion for the plant.
The Department of Energy has already awarded $245 million in grants toward construction of the plant, which was supposed to cost $2.9 billion at most. But with construction running about two years behind, the company is likely to repay $367 million in tax credits that it could have kept for finishing on time.
To read more: http://www.dailyjournal.net/