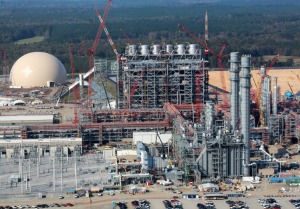 Concerns over Operational Costs of Kemper Plant
In the Austin Powers series of movies, villain Doctor Evil (played by Mike Myers) would inform world leaders of his ransom and put his pinky finger to the corner of his mouth to emphasis the amount, capped with a dramatic musical flourish and some evil laughter. In the case of Kemper and its operation and maintenance costs, Doctor Evil would've accented "one billion dollars."
Cue dramatic music and evil laughter.
That's how much Mississippi Power admits that it would cost to operate and maintain the lignite plant in the first five years of operation. The company also said in testimony to the Public Service Commission that that cost could be on the low side.
Initially, Mississippi Power said Kemper would cost only $258 million to operate and maintain in its first five years of operation in 2010. That figure more than doubled to $515 million in a 2013 filing. From 2010's filing to 2016, that figure has increased 288 percent.
None of this is unexpected. A critical report by engineering firm AECOM in 2012 told the PSC that Mississippi Power's estimates of future natural prices over the 40-year lifespan of the plant were too high and its estimates of operations and maintenance costs were too low.