Coal's Best Hope is Costly Power Plant in Mississippi
Rising from the scrub pines of central Mississippi is a $5.2 billion construction project that may determine the future of coal in the age of global warming.
Rising from the scrub pines of central Mississippi is a $5.2 billion construction project that may determine the future of coal in the age of global warming.
It's here in Kemper County, 90 miles southwest of Tuscaloosa, Alabama, that utility Southern Co. is building the first large-scale power plant in the U.S. designed to transform coal into gas, capture the carbon dioxide and pump it underground. If it succeeds — and there are plenty of doubters — it will boost the fortunes of the fossil fuel that drove the Industrial Revolution but has lost ground to cheaper, cleaner alternatives in the U.S.
"Kemper is a first-of-a-kind plant that could be a game changer," said John Thompson, director at the Clean Air Task Force, an environmental group that supports the project. "The central reality is that we can't burn coal the way we have for the past 30 years."
Skeptics question whether Kemper will work as advertised when it begins operating later this year, and even if the carbon it captures will stay locked up underground. In 2011, carbon dioxide from a natural reservoir blew out of the oilfield where Kemper's gas is to be pumped, spewing for days.
"There is no such thing as carbon-dioxide sequestration in an oil field," said Thomas A. Blanton, a Hattiesburg oil man who is helping lead the opposition to Kemper in Mississippi. "It's a myth."
Top Fuel
Despite the best efforts of environmentalists, coal, the world's most abundant fossil fuel, is still used more than any other source to generate electricity and is even experiencing growth overseas because of its low cost. In the U.S., however, booming natural gas production and looming environmental rules cast a shadow over its future unless technology can come to the rescue.

The 582-megawatt Kemper project, the only major coal plant being built in the U.S., is a showcase of technology — and has a price tag to match. It will cost more than twice the initial estimate, making it one of the most expensive power plants ever built.
It is also the linchpin of President Barack Obama's efforts to spur development of so-called clean-coal technology. The Environmental Protection Agency's first greenhouse-gas regulations, proposed in September, rely to a large degree on this plant to legally justify that standard.
Cost Effectiveness
Kemper is the only major clean-coal power plant funded by the U.S. Department of Energy that has so far broken ground. Even with the offer of billions of dollars of government subsidies, the other projects have been scrapped, delayed or are facing funding woes that may doom them — illustrating the troubled history of efforts to cut coal's environmental impact. Coal generates twice the climate-warming carbon dioxide as natural gas when burned to generate electricity.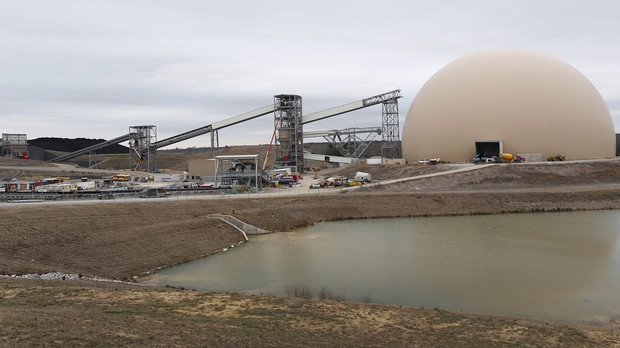 Photographer: Gary Tramontina/Bloomberg
The dome for storing lignite coal stands next to Southern Co.'s Kemper County power… Read More
Since the 1950s it's been the mainstay of electricity production. It accounted for 39 percent of total U.S. generation last year, down from almost half in 2007. It's use bounced back early this year, as frigid weather and pipeline bottlenecks forced a temporary spike in gas prices.
But utilities are going ahead with plans to shut coal-fired plants. In 2011 and 2012, coal units capable of generating 14 gigawatts of electricity were shuttered. Another 63 gigawatts — more than a fifth of the coal fleet — may disappear by 2017 because of rules curbing mercury and other pollutants, according to projections by Bloomberg New Energy Finance.
Emission Limits
And more rules, which aren't part of that estimate, are coming: EPA's proposed emission limits would effectively ban the construction of new coal plants, according to industry critics. Separate EPA rules for greenhouse gases from existing plants are coming in June.
That is why Kemper, the biggest construction project in Mississippi, is so important to the future of coal. Conceived from a two-decade collaboration between the Department of Energy and Southern's engineers, Kemper was touted when unveiled as a way to boost development of Mississippi's lignite coal, diversify Mississippi Power Co. away from reliance on natural gas and tackle climate change.
"This is going to produce low-cost, reliable power for Mississippians for decades and decades to come, and it's going to do it with an absolutely unprecedented technology," Haley Barbour, a Republican who was the state's governor, said at the plant's groundbreaking in 2010.
Revolutionary Design
A 200-foot-tall dragger is already stripping away the red clay that covers the lignite that will feed the plant. Backhoes scoop out the 12-foot seams and load Caterpillar Inc. dump trucks.
When the plant is operating, the coal will be ground up and dropped into a high pressure, low-oxygen chamber called a gasifier. The low-oxygen environment means the coal doesn't burn, but is transformed into composite gases. Leftover coal ash is dumped out the bottom.
Ammonia, sulfuric acid and carbon dioxide then can be pulled off the gas stream. The carbon dioxide is absorbed by a solvent, which releases the compound when it flows to a lower-pressure chamber. It is then compressed into a liquid to be pumped into nearby oil fields to help squeeze out any remaining crude.
What's left is mostly hydrogen and nitrogen, which is sent to a turbine to be burned and make electricity.
"Once you get to that burner tip, it doesn't make much difference" whether natural gas or the synthetic gas is used, said Randall Rush, general manager for gasification at Southern.
High Cost
All that erector-set magnificence comes with a price.
According to a Sierra Club analysis, Kemper is the most expensive power plant ever built for the watts of electricity it will generate. The plant will end up costing more than $6,800 per kilowatt. By comparison, a modern natural-gas plant costs about $1,000 a kilowatt, according to the U.S. Energy Information Administration. A nuclear plant costs about $5,500.
Kemper was initially projected to cost $1.8 billion. By the time it sought approval from the state's Public Service Commission, it proposed a cap of $2.88 billion. After construction began, costs rose, and the total is now $5.2 billion, including the pipelines and mine. To help defray the cost for ratepayers, Southern took a write-off of $1.18 billion and persuaded the state legislature to back $1 billion in bonds.
The federal government is chipping in, as well. The Department of Energy pledged a $270 million grant. The project can qualify for $279 million in tax credits if it meets its target of capturing 65 percent of the carbon emissions.
Future Plants
Supporters say the cost will fall for subsequent power projects after the technology is proven.
"It's the fourth or fifth plant in which the costs come down," Carl Bauer, former director of the Energy Department's technology laboratory, said in an interview. "Our challenge is that we aren't building that many coal plants."
In West Virginia, American Electric Power Co. spent $114 million to test carbon-capture equipment on its Mountaineer plant. The company captured and pumped the gas underground for about 18 months, but then pulled out of an agreement with the federal government to build a commercial-scale project in 2011, because of the "uncertain status of U.S. climate policy and the continued weak economy."
Four other projects pledged funding by the Energy Department remain active, but each has been delayed. NRG Energy Inc. is set to begin installing equipment to capture carbon dioxide on a Houston-area plant this year, two years later than planned. In west Texas, Summit Power is working to cut the costs of building a coal plant that would make electricity, urea and carbon dioxide to sell, as estimates of building the plant have grown.
'Ominous Time'
"Right now we don't have the right magic construction number that shows everyone that they are going to make money," said Laura Miller, director of projects for Summit in Texas. "It's a difficult and ominous time for carbon capture projects."
And after a decade of public support, the FutureGen project in Illinois, which was pledged $1 billion from the federal government, is now on its second iteration, with a revamped set of industry partners. The plan is now to capture the carbon from an existing coal plant instead of building a new one.
Southern Co. has told state regulators that Kemper will open sometime in the last three months of the year. Its price tag has united in opposition an unlikely alliance of free-market advocates, Gulf Coast businessmen, environmentalists and the oil prospector Blanton.
They have sued, mounted ratepayer challenges at the Public Service Commission, launched a state-wide lobbying campaign and disbursed campaign fliers at mall parking lots, all protesting the plant and the rate increases accompanying it.
Boston Battle
Blanton's lawsuit, which could be decided by the state Supreme Court this month, rests on an argument dating to the Boston Tea Party: By forcing him to pay higher rates for a plant that's not yet completed, Mississippi Power is unjustly taking his property without offering anything in return.
If Southern wants to prove that carbon capture can work, it should pay for that itself, he said.
"The whole problem with this entire project is that they are taking big bets with other people's money," Blanton said.
Even if natural gas prices stay where they are at $4 to $5 per million British thermal units, Kemper will be cheap to run, and so is a good investment for customers, said Ed Holland, the president of Mississippi Power.
"Anytime you add baseload power, you are going to see a spike in rates," Holland said in an interview. "We've gone above and beyond in order to try to minimize that impact."
'Bleeding Edge'
The larger question now is whether the rest of the industry will look at Southern's experience in Mississippi and see a reason to invest in the next new coal plant.
"Unfortunately for Mississippi Power, they are out there at the bleeding edge of technology," said Jeff Phillips, a manager for advanced coal power at the Electric Power Research Institute. "But how do we get from the first generation to the fifth if there is no economic incentive to do so? There's a low-cost alternative, and it's natural gas."
Thompson of the Clean Air Task Force, predicts that only a few carbon-capture projects will be tried over the next few years, but eventually it will become the norm for power plants, steel mills and cement factories. And at that time the price tag of Kemper may be long forgotten.
"As soon as this plant goes on line, all of the existing coal plants and their pollution will seem obsolete," Thompson said in an interview. "The world will start to change."
To contact the reporter on this story: Mark Drajem in Washington at mdrajem@bloomberg.net
To contact the editors responsible for this story: Jon Morgan at jmorgan97@bloomberg.netSteve Geimann
Cover Photo: Photographer: Gary Tramontina/Bloomberg- Cranes stand at the construction site for Southern Co.'s Kemper County power plant near… Read More
By Mark Drajem | Apr 13, 2014 11:00 PM CT | www.bloomberg.com
Photographer: Gary Tramontina/Bloomberg