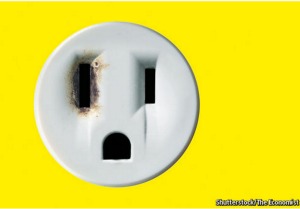 Clean energy's dirty secret – Wind and solar power are disrupting electricity systems
But that's no reason for governments to stop supporting them
There is a $20trn hitch, though. To get from here to there requires huge amounts of investment over the next few decades, to replace old smog-belching power plants and to upgrade the pylons and wires that bring electricity to consumers. Normally investors like putting their money into electricity because it offers reliable returns. Yet green energy has a dirty secret. The more it is deployed, the more it lowers the price of power from any source. That makes it hard to manage the transition to a carbon-free future, during which many generating technologies, clean and dirty, need to remain profitable if the lights are to stay on. Unless the market is fixed, subsidies to the industry will only grow.
Policymakers are already seeing this inconvenient truth as a reason to put the brakes on renewable energy. In parts of Europe and China, investment in renewables is slowing as subsidies are cut back. However, the solution is not less wind and solar. It is to rethink how the world prices clean energy in order to make better use of it.
Shock to the system
At its heart, the problem is that government-supported renewable energy has been imposed on a market designed in a different era. For much of the 20th century, electricity was made and moved by vertically integrated, state-controlled monopolies. From the 1980s onwards, many of these were broken up, privatised and liberalised, so that market forces could determine where best to invest. Today only about 6% of electricity users get their power from monopolies. Yet everywhere the pressure to decarbonise power supply has brought the state creeping back into markets. This is disruptive for three reasons. The first is the subsidy system itself. The other two are inherent to the nature of wind and solar: their intermittency and their very low running costs. All three help explain why power prices are low and public subsidies are addictive.
To continue reading: http://www.economist.com/news/leaders/21717371-thats-no-reason-governments-stop-supporting-them-wind-and-solar-power-are-disrupting