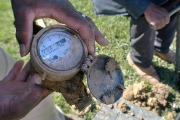 City to review Siemens contract
"Sunshine is the best detergent", City Council president DeKeither Stamps at press conference announcing the investigation.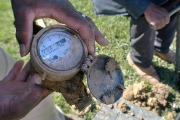 Clay Chandler, The Clarion-Ledger | 4:25 p.m. CST March 6, 2015 | www.ClarionLedger.com
The Jackson City Council voted Thursday night to investigate the city's water department, including a $90 million contract with Siemens to replace water meters, upgrade billing software and improve water and sewer infrastructure.
"We'll look at a lot of things," Council president De'Keither Stamps, who represents Ward 4, said Friday.
The vote came after a report the Council commissioned from a Charlotte-based financial consulting firm. Raftelis Financial Consulting's findings suggest that the city likely will not realize the more than $120 million in total savings, just under $500,000 annually, Siemens promised when the contract was signed in 2012. Of that amount, only about $40 million can be guaranteed without a reduction in city staff, the report said. The other $80 million will depend on the city reducing operational costs. On the water department side, plugging the revenue leak, identified in Raftelis' findings is the primary concern, Stamps said.
"There are systemic problems that have come to a head."
After the billing errors, the city issued a stop-work order, halting the installation of the digital meters. Contractors, at the city's demand but at Siemens' expense, are now inspecting each of the new meters. Mayor Tony Yarber said in a press conference Wednesday that Siemens had sent representatives to Jackson to help with that process.
The resolution ordering the city's investigation calls for a combination of auditors, attorneys and consultants to review Raftelis' findings. No cost estimate was attached.
Ward 1 councilman Ashby Foote said Friday that the reduction in staff related to the Siemens deal was implied on the contract's front end – the water meters were digital, and did not require staff to read manually – but that the report's details show the city is not getting its money's worth. So far, Siemen's has received $70 million of the total cost.
"Sadly, I think what we realized that we're taking on a lot of debt, and the marginal return on the contract means it probably should have been broken into separate contracts instead of one big one," Foote said. "What we all agreed on was that we needed to investigate. The consultants are pretty skeptical about it, and I'd have to agree that their skepticism is warranted."
In a meeting last month, the Council asked city attorneys the implications of terminating the contract, though no concise answers were given. That discussion came after at least seven meters were calibrated to read usage by gallon instead of the city's standard cubic feet calibration. That error was at least partially responsible for some water bills jumping more than 600 percent month over month. Foote said Friday that the possibility of litigation "is still open."
To read more: http://www.clarionledger.com/story/news/2015/03/06/city-review-siemens-contract/24502603/