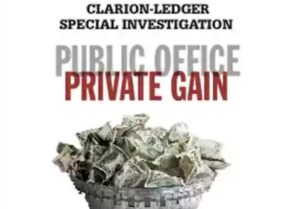 Campaign finance then, now, future
Geoff Pender and Anna Wolfe , The Clarion-LedgerPublished 6:50 p.m. CT Feb. 1, 2017
Mississippi politicians faced a 5 p.m. Tuesday deadline to file their campaign finance reports and by late Wednesday, most of those filed by the deadline were available online.
A list of those who missed the deadline is expected Thursday.
The reports are the first for statewide and legislative politicians since a push for campaign finance reform in the Legislature and since a special Clarion-Ledger report, "Public Office/Private Gain" showed how the state's lax laws and nonexistent enforcement have created a tax-free second income for many, funded by special interests.
Pending legislation would restrict personal spending of campaign money — as most states and the federal government do — and prohibit sidestepping reporting of campaign spending by running it through a credit card. Both House Speaker Philip Gunn and Lt. Gov. Tate Reeves have vowed to push through reforms.
Experts and political observers have called Mississippi's lack of rules and transparency on campaign money "a recipe for ethical disaster" and "legalized bribery," with special-interest money making its way into politicians' pockets after it runs through their campaign accounts. Campaign money is shielded from tax, ethics, bribery and other laws because it is ostensibly to be used for campaigning and records of it are supposed to be open to the public.
In Mississippi in the past, neither has really been the case.
Below, The Clarion-Ledger revisits some of the politicians who had interesting or questionable campaign reports for prior years that were highlighted in the ongoing Public Office/Private Gain reports. It compares them to this year's report. Also below is a glance at statewide elected officials' campaign finances and donors and a look at pending campaign finance reform laws.
To continue: http://www.clarionledger.com/story/news/politics/2017/02/01/campaign-finance-future/97336078/