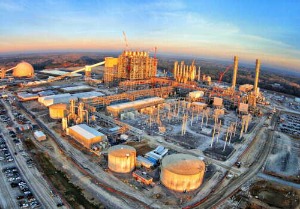 Billions over budget. Two years after deadline. What's gone wrong for the 'clean coal' project that's supposed to save an industry?
By DARREN SAMUELSOHN
William Widmer for POLITICO | www.politico.com
DE KALB, Miss. – If coal has a future, it lies here, off a state road lined with churches, crawfish billboards and boarded-up houses. One of the poorest places in America, this is also home to one of the most expensive power plants ever built.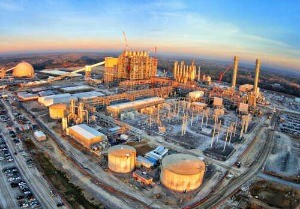 The Kemper County Energy Facility is the showcase for the decades-old dream of "clean coal" — the idea that the country's most important, but dirtiest, power source can be burned with minimal damage to the environment.
What Southern Company and its subsidiary Mississippi Power have constructed here over the past five years can rightly be described as an engineering marvel. Fifteen stories of metal scaffolding surrounds a labyrinth of steel, concrete and more than 170 miles of piping. When the Kemper plant starts to burn coal, there will be nothing else like it in the world: Instead of releasing millions of tons of carbon dioxide into the atmosphere every year, it will capture 65 percent of that greenhouse gas and ship it off to an aging oil field, where it will be pumped underground to help produce valuable crude.
Just one problem: It was supposed to be doing all those things two years ago. The plant was scheduled to start generating power in 2013. But during the permitting and regulatory approval process, opening day got moved to 2014. Blaming bad weather, faulty estimates and contractor delays, company officials again delayed the deadline to May 2015. Now Kemper managers say the plant won't be online until the first half of next year at the earliest. And as the plant blows through deadlines, the cost has ballooned dramatically: An original price tag of $1.8 billion has swelled to $6.2 billion. Last week, Kemper lost one of its major partners because of the construction delays and higher-than-expected costs projected for producing electricity.
Clockwise: The Kemper County Energy Facility's gasification system, which turns coal into a mix of hydrogen and carbon monoxide; workers exiting a 15-story elevator at the power plant; state-of-the-art scrubbers that will capture hydrogen sulfide and carbon dioxide; construction managers. | William Widmer for POLITICO
For any other power project, this would be just a local problem ─  a power company's cost overruns. But Kemper is a showpiece and a symbol. Most Americans haven't heard the name, but Kemper represents a survival strategy for coal. Every time the Environmental Protection Agency adopts new standards for pollution at power plants, coal becomes more expensive to burn. This summer's expected clean-power regulations will for the first time impose carbon dioxide limits on both new and existing units. As the regulations tighten, and coal becomes hemmed in by more and more anti-pollution rules, the Kemper plant — the only new facility to break ground since late 2008 —  increasingly represents coal's chance at a future in that new world.
It is also turning into a lesson in just how hard survival is likely to be.
As clean-coal projects go, Kemper —  even with its delays and cost overruns —  practically counts as a success story. Another high-profile test case for the technology — FutureGen 2.0 in central Illinois — died three months ago after its federal subsidies evaporated. Two more major federally funded demonstration projects in California and Texas are also imperiled.
This is not what the future was supposed to look like. "Most people have said burning coal without creating pollution was as likely as the Red Sox winning the World Series," President George W. Bush said in early 2005 not long after Boston's baseball team broke an 86-year title drought. "Anything is possible. Clean coal technology advances — will advance, and when it does, our society will be better off." He wasn't the only one making big promises: The U.S. has invested billions of dollars over the past three decades promoting clean coal technologies, funding that has gone toward tax credits, grants awarded directly to industry, scientific research, pilot demonstration projects and a major lab outside Birmingham, Alabama, where electric utility companies and engineers can test their ideas on two operational power plants.
For all that money, there's been little payoff yet in real-world electricity production.  Many environmentalists have always been skeptical. They see clean coal as an oxymoron, another expensive way to prop up an outdated fossil fuel. But it's also starting to draw skeptics from coal country.
"If somebody had told me that all these years later and all these dollars later we've gotten no further than we've gotten I'd have not believed it," said Sen. Tom Carper, a Delaware Democrat and senior member of the Environment and Public Works Committee who often touts his family roots in the small coal mining town of Beckley, W. Va. "It's hard to understand. Hard to fathom. A great disappointment."
Energy Secretary Ernest Moniz, in a November 2013 Facebook post after visiting Kemper with dozens of foreign dignitaries, said plants like it "represent the future of fossil energy." And with it, presumably, the future of a powerful coal industry, and tens of thousands of jobs. Clean coal was supposed to be one of those challenges America could meet with enough gumption and technical savvy. But with so many obstacles along the way, the power plant emerging in the southern Mississippi pine forest here is turning into a singular test of whether such a thing is even possible at all.
How Kemper even got this far is remarkable.
Once king in the U.S., coal has been on defense pretty much since the original conception of the Mississippi power plant about a decade ago. Demand for the country's most abundant fossil fuel has dropped dramatically in recent years. In part this is due to the discoveries of vast domestic troves of natural gas, an efficient and lower-emission power source that has become less expensive over the last decade. Another big driver has been environmental rules. Coal's viability has been chipped away by a stack of hard-fought EPA standards, most recently limits on mercury, a dangerous neurotoxin. Environmentalists have also been waging a sustained legal war with striking success. The result is that companies are wary of making big financial investments, and new coal plants today are a rarity.
Without a major reversal to the EPA policies, coal's future has come to depend on "clean coal," a shorthand for a suite of technologies that in recent decades has helped dramatically slash sulfur dioxide and nitrogen oxide emissions. The cutting edge of coal technology —  and what is emerging as the biggest challenge, with Kemper as a test case —  is "carbon capture," the science of pulling the vast quantities of carbon dioxide out of coal smoke and then storing and shipping it to a permanent reservoir where the greenhouse gas never enters the atmosphere. The technology has been in development for years, but only a tiny handful of companies have both the money and the incentive now to try turning it into reality.
Enter Atlanta-based Southern Company, one of the largest electric utility companies in the country and one of the nation's biggest consumers of coal. As the industry braced for the EPA's expected tightening of air pollution regulations this summer, Southern Company, which had started to rely more on natural gas, knew it would have to modernize further. It would be an expensive process, but useful: Adding a major clean-burning plant like Kemper would lower the company's overall carbon footprint and also give it a stable coal-burning anchor that could help brace against any future fluctuations in natural gas prices.
Clockwise: The Liberty Baptist Church and cemetery, established in 1842, sits just across a state road from the Kemper County Energy Facility; Holly Anna Burford, 4, plays with her dog Bullet while her mother Lanita Burford tends to her younger sister Caroline at Kamp Kemper, one of several nearby trailer and RV parks that are home to many of the power plant's workers; trailers lined up at a nearby RV park; lunch customers at TM's Snack Shack, which opened near the start of the Kemper plant's construction.
To read more: http://www.politico.com/agenda/story/2015/05/billion-dollar-kemper-clean-coal-energy-project-000015