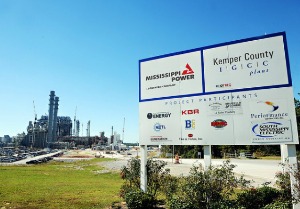 Another month, another $20 million in Kemper Project costs
By Steve Wilson  /   June 3, 2016  / www.MississippiWatchdog.org
Another month brings another cost increase for Mississippi Power's embattled Kemper Project clean coal power plant.
The utility announced in an SEC filing that the plant will cost an additional $20 million, bringing the new estimated total to $6.74 billion.
The plant is designed to convert the second-lowest grade of coal, lignite, into a natural gas-like substance called synthesis gas to fuel its electricity-generating turbines while removing 65 percent of the carbon dioxide with its carbon capture system.  It has been generating power on natural gas since August 2014.
The company said the facility's two gasifiers are still scheduled to go online in the third quarter of this year, likely in September. The company has said in previous filings that any further delays could add up to $25 million to $35 million per month if the plant is delayed past Sept. 30.
Of the new Kemper Project costs, $19 million are subject to the $2.88 billion cost cap reached in a deal with the Public Service Commission and will be paid by the company. These costs include operational startup costs and repairs to the refractory lining in the gasifiers, which protect the thin metal shell from contact with the 1,800 degree synthesis gas, which could cause an explosion. The other $1 million could be paid by customers in the form of rate increases, if approved by regulators. The company is barred from seeking rate increases beyond the cap, which was part of the agreement reached with the PSC to limit the passing-on of costs to the utility's 187,000 customers in south Mississippi.
RELATED: Kemper Project makes for an expensive natural gas plant
The company said it received $137 million in grants on April 6 from the U.S. Department of Energy to help offset additional costs on Kemper. Republican Sen. Thad Cochran announced up to $160 million in potential grants for Kemper in December as part of the Consolidated Appropriations Act of 2016.
RELATED: Monitor: Kemper Project might not make its start date
Southern Company has to file monthly progress reports with the PSC, and the April report marked the ninth consecutive month with a cost increase. The plant was originally supposed to open in May 2014 and will be more than two years behind schedule when it comes online.