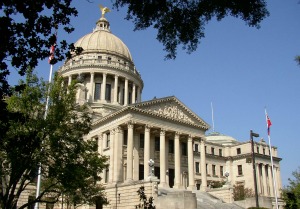 Accountability in Miss. government, politics vague
ANNA WOLFE | THE CLARION-LEDGER  | November 8, 2015
Editor's Note: Anna Wolfe wrote and reported this story as a contributor to the Center for Public Integrity before she was hired at The Clarion-Ledger.
Beneath the soaring dome of Mississippi's Capitol building, lights shine on a small bust of a blindfolded woman meant to portray "blind justice." But she could just as easily represent the 3 million citizens of this deeply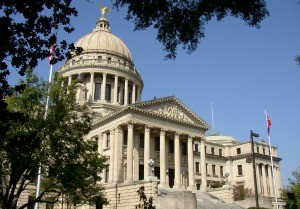 conservative Southern state, where transparency and accountability often seem like little more than abstract notions.
Political candidates are free to raise unlimited sums here and can spend that money largely as they choose, even for personal use. Both the legislative and judicial branches are largely exempt from the state's open records law. The state ethics commission rarely uses its power to investigate public officials and does not make public all of the cases it does pursue.
Perhaps as a result, state government has been plagued by a series of scandals in recent years. In February, the former Department of Corrections commissioner pleaded guilty to corruption for accepting some $2 million in bribes over eight years in exchange for directing hundreds of millions of dollars in contracts to private businesses.
In light of all that, perhaps it's not surprising that the Magnolia State earned a score of 61, or D-, in the State Integrity Investigation, a data-driven assessment of state government accountability and transparency conducted by the Center for Public Integrity and Global Integrity, placing Mississippi 33rd out of 50.
That's a major drop from 2012, when the state ranked sixth, with a score of 79 or C+. The two scores are not directly comparable, however, due to changes made to improve and update the project and methodology, such as eliminating the category for redistricting, a process that generally occurs only once every 10 years.
"I think because of its conservative nature," said Curtis Wilkie, a veteran reporter and a fellow at the University of Mississippi's Overby Center for Southern Journalism and Politics, "that this state is naturally not going to reveal a lot of the things that go on in its government."
Questionable purchases
The state's worst performance came in the category of campaign finance, in which Mississippi came in dead last with a score of 34. And perhaps no case highlights the reasons for that better than that of State Auditor Stacey Pickering.
From 2007 through 2014, the man charged with keeping the state's books in order reportedly used campaign funds to purchase an RV (according to his wife, it helped them make Disney's Fort Wilderness Resort & Campground their "second home"), a $3,082 garage door and $136,000 in non-itemized campaign travel reimbursements over three non-election years. Pickering won re-election last week.
To read further: http://jacksonclarion.ms.newsmemory.com/?token=fd76eff92e09e9642552f900f88f28ec&cnum=3706144&fod=1111111STD&selDate=20151109&licenseType=none&