What you call crony capitalism.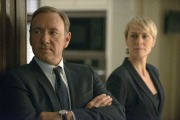 By Hunter Schwarz | December 2, 2014 | www.WashingtonPost.com/blog
Kevin Spacey as Francis Underwood, left, and Robin Wright as Clair Underwood in a scene from Netflix's series, "House of Cards." (AP Photo/Netflix, Nathaniel E. Bell)
Maryland's tax incentives for film production only brings in 10 cents for every dollar spent, and the legislature should let it expire in 2016, a study from the Department of Legislative Services recommends.
"While the credit may produce economic benefits that accrue to certain businesses and individuals, the credit does not pay for itself," the study reads.
For every dollar granted by the credit, the state receives 6 cents, and local governments receive 4 cents. About 97 percent of the $62.5 million Maryland has spent on the tax credit since the beginning of the 2012 fiscal year has been spent on two shows: "House of Cards" and "VEEP." "House of Cards" is filmed in Baltimore, and "VEEP" is filmed in Baltimore and Sykesville, Md., according to IMDb.
"Since the credit does not provide sustainable economic development and provides a small return on investment to the state and local government, DLS recommends that the General Assembly allow the film production activity tax credit to sunset as scheduled on July, 2016," the study reads.
Photo Credit: AP Photo/Netflix, Nathaniel Bell
To read more:  http://www.washingtonpost.com/blogs/govbeat/wp/2014/12/02/marylands-tax-credits-for-film-production-isnt-worth-it-state-study-says/