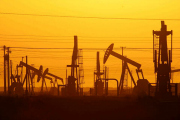 A World Remade by Fracking
The frackers and Fracking are remaking the world, but thanks to Kemper and its proponents, Mississippi may be on the wrong side of this world-changing technology.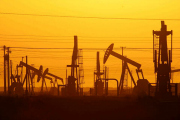 By Holman W. Jenkins, Jr. | March 31, 2015 6:52 p.m. ET | www.wsj.com
Photo Credit: An oil field over California's Monterey Shale formation. Photo: David McNew/Getty Images
If not for fracking, oil would probably be $200 a barrel and gasoline $6.50 in the U.S.
Western economies would likely be in free fall. The grudging U.S. recovery would be in retreat. The modest and possibly illusory green shoots seen in Europe, largely a function of cheap oil and a strong dollar, would wither. Japan would be even more of a write-off than it already is.
Russia would be even more emboldened in its geopolitical predations. Vladimir Putin would be raking in vaster bucks, rather than vastly diminished bucks, for his oil. Europe and the U.S., feeling broke and bedraggled, would be even less eager for confrontation.
Speculating about counterfactuals can be a foolish exercise, but oil traders usually take fright at geopolitical upsets that threaten supplies out of the Middle East. Yemen sits at the narrow Bab el-Mandeb chokepoint through which 3.8 million barrels a day flow from Saudi Arabia's Red Sea terminals and elsewhere to the world. Yemen's upheaval comes at the hands of Houthi tribalists backed by Iran, whose military already threatens another key Mideast oil chokepoint, at the exit of the Persian Gulf.
To register panic about all this and drive up prices, however, oil buyers have to be able to hoard oil. That's becoming all but impossible. A huge amount of surplus production is already sloshing around the world, mostly as a result of U.S. fracking. As a consequence, storage tanks are full to overflowing. Panickers and speculators may well be physically unable to drive up prices significantly if they wanted to.
Even with the world increasingly clear-eyed about the consequences of the fracking revolution, if not the unprecedentedly sharp episodic growth in U.S. output last year, oil still topped $100 a barrel as recently as eight months ago.
To belabor what was once obvious, instability in the Middle East typically has been bullish for oil prices, as witnessed by various Arab-Israeli wars and Iraq's wars with its neighbors. Saudi jets have already entered the fight to stop Iran's allies in Yemen. If necessary, Saudi troops will likely intervene on the ground, waging a fight that would also be a fight for the interests of global oil consumers.
A direct confrontation between Iran and Saudi Arabia over Yemen could be shaping up. Iran is on the march in Iraq and Syria. Much of the Middle East is in chaos. That all this could be happening and yet oil pundits are more concerned about oildropping to $20 a barrel, because of a lack of storage to accommodate our abundance, testifies to a geopolitical somersault the world is still trying to make sense of.
Fracking overnight has relieved Saudi Arabia of its swing-producer dominance. Fracking overnight has relegated the Middle East to a sideshow, albeit a still-important sideshow, in the world economy.
To read more:  http://www.wsj.com/articles/holman-jenkins-a-world-remade-by-fracking-1427842374