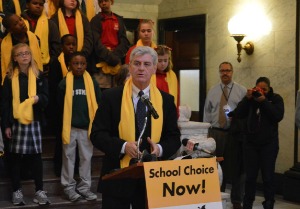 A few tweaks, but it's wait until next year for major school choice reforms in Mississippi
By Steve Wilson  /   March 8, 2016  / www.Watchdog.org
During a rally at the Mississippi Capitol in Jackson during National School Choice Week in January, Gov. Phil Bryant pledged his support to expanding school choice in the state.
"You're going to see a lot of transformational policy here across the board," Bryant said at the time.
There was some transformational legislation introduced, but the majority of it died in the Legislature despite Republican supermajorities in both chambers. An ambitious bill that would have expanded the state's education scholarship program from special needs students to all students failed, while one of the two bills that would allow students to cross district lines to attend charter schools was watered down in committee.
There are some important initiatives still alive, but bigger reforms will have to wait until next year.
Two bills that are still alive would allow some students to cross district lines to attend a charter school. Senate Bill 2161 is the more expansive reform and was passed by the Senate on Monday. It would allow students to cross district lines to charter schools and allow charter schools to be located in districts with a grade of C from the Mississippi Department of Education. Presently, only districts rated D or F by the department can host charter schools; both of the state's existing charter schools are in the Jackson metro area.
Related: Poll: 78 percent of Mississippi voters favor school choice
Only 40 out of the 151 school districts in the state scored that poorly in the MDE's annual assessment of districts and individual schools. Adding C districts would give 48 more districts the ability to host a charter school.
The bill also would allow charter school operators to lease district schools at market value, and charter teachers and administrators would receive state benefits.
"Public charter schools can offer students an opportunity for academic success, and I believe all of Mississippi should
have the ability to attract these schools," said Lt. Gov. Tate Reeves in a statement. "By allowing students to cross district boundaries, public charter schools can build the capacity to operate effective campuses wherever there is demand from families."
House Bill 1044, in its original form, would not have restricted students transferring to charters outside their districts. The version that passed the House mandates that children can transfer only to a charter school outside their district if they are in a district with a D or F grade.
HB 33 would allow any child with an individualized education plan — which spells out each child's learning needs, the services provided by the school and how the student's progress will be measured — in the past five years to be eligible for the educational scholarship account program. The program now allows only those with a more recent individual plan to participate. It was passed by the House last week and is headed to the Senate for a vote.
The present education scholarship program is capped at 500 students with an IEP this school year, with an additional 500 eligible for the program next year. Participating parents receive $6,500 to use on tuition, books and other approved learning aids. Out of 251 who applied, only 107 received ESAs in the first year of the program.
The biggest expansion of school choice in the state's history will have to wait until next session.
House Bill 943 would've expanded the educational scholarship account program to 1 percent of the state's estimated public school enrollment. Children with special needs would have received priority for the available slots in the program, then children from low-income households and finally other children. It died in the House Appropriations Committee in February after being approved by the Education Committee.