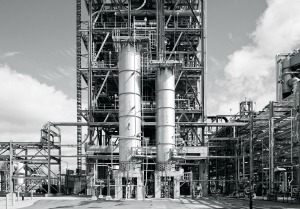 Photograph by Ty Cole for Fortune
CLEAN TECH: SPECIAL REPORT
Legendary venture capitalist Vinod Khosla backed a startup called KiOR as part of his ambitious push for green energy. Now KiOR is bankrupt, he and company executives are being sued for fraud, and Khosla's big biofuel bet is looking increasingly questionable.
Drive a couple of hours northeast of Jackson, Miss.—maneuvering past semitrailers piled with timber on highways lined with dense pine forests—and you'll reach a sprawling structure of metal pipes and towers.
It's a factory in the sleepy city of Columbus, Miss., that was briefly able to turn wood chips into a biofuel that could power vehicles more cleanly than oil, using a first-of-its-kind technology that wowed engineers, politicians, and investors.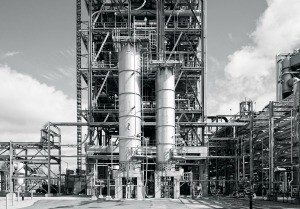 The plant's supporters once envisioned it as the embodiment of a clean-energy future. The company that owned it was valued at more than $1.5 billion, and its shares publicly traded. The factory, the first of several planned in the state, was intended to employ hundreds of workers and create new demand for the state's timber industry.
But on a hot, sunny afternoon in October, the factory is a dead zone. Long weeds have sprouted up around an empty parking lot. No workers are operating any machinery. The plant hasn't produced any biocrude in close to two years. Days before, a big chunk of the facility was sold for $2.1 million. Another piece was unloaded weeks before that for $1.6 million. The plant, a former paper mill, had cost more than $215 million to buy and convert to green energy production.
The factory was run by a company called KiOR, which was once a symbol of the promise of the next generation of biofuels and the role that Silicon Valley and government could play in incubating clean-energy technology. Its soaring ambitions—and hype—largely stemmed from the imprimatur of Silicon Valley venture capitalist Vinod Khosla and the millions he had invested in it. All told, the company spent more than $600 million. In its brief time in operation, it generated $2.3 million in revenue; when it filed for bankruptcy it listed assets of $58.3 million.
At one time KiOR was an important company for Khosla, whom Fortune called "the most successful venture capitalist of all time" in 2000. He's a billionaire who moves in rarefied circles; he hosted a dinner for President Barack Obama at his home a few years ago. In 2004 Khosla left the elite venture capital firm Kleiner Perkins Caufield & Byers. He launched Khosla Ventures partly because he wanted to make an outsize bet on clean technology. The next generation of biofuels, made from plants and biowaste (so-called cellulosic materials), which have lower carbon emissions than oil, were a particular passion. Khosla invested hundreds of millions of dollars in about a dozen biofuel and biochemical companies.
His ambitions were audacious. Khosla declared "a war on oil." As he wrote in 2006, "I believe we can replace most of our gasoline needs in 25 years with biomass." He dismissed incumbent energy companies in a 2007 interview as not investing heavily in biofuels because they weren't "used to innovation and the rate of innovation we are likely to see in this business."
KiOR was a crown jewel in the aggressive biofuel portfolio of billionaire venture capitalist Vinod Khosla.Photo: Martin Klimek—Zuma Press
KiOR was a crown jewel in Khosla's biofuel portfolio. Khosla Ventures held 75% of its voting shares at one point and wagered nearly $160 million, much of it Khosla's own money. He attracted a constellation of names. Former Secretary of State Condoleezza Rice joined KiOR's board. Later, tech magnate Bill Gates, who has invested in Khosla's funds and shares his interest in energy tech, committed millions. Former U.K. Prime Minister Tony Blair joined Khosla Ventures as a senior adviser in 2010, partly to counsel clean-tech startups.
Khosla's ambitions were audacious. "We can replace most of our gasoline needs in 25 years with biomass," he asserted.
Yet only 2½ years after a gala groundbreaking, KiOR's Mississippi facility, riddled with problems, stopped producing biofuels. Eleven months after that, in late 2014, the company filed for bankruptcy.
Unlike most failed startups, KiOR hasn't just shut its doors and disappeared into oblivion. Today recriminations, investigations, and litigation continue to surround it. The Securities and Exchange Commission has been examining whether the company made false statements, including on a critical point: the yield of its biofuel (the amount that can be made per ton of wood chips). Two KiOR executives and Khosla himself are also facing a class action suit alleging that company executives misled investors about production volumes and yield.
The state of Mississippi is also suing Khosla and key KiOR executives on similar grounds, claiming they hoodwinked the state to obtain a $75 million loan. The case provides a striking image. One of the poorest states in the country, which received only $6 million of its money back before KiOR went bankrupt, is seeking to collect from a Silicon Valley billionaire. In the suit, Mississippi Attorney General Jim Hood described KiOR as "one of the largest frauds ever perpetrated on the State of Mississippi." The state development agency called for KiOR to be liquidated and accused the company of manipulating the bankruptcy to give Khosla a better deal on the assets. KiOR countered by accusing the state of a "scorched-earth litigation strategy" that scared away potential buyers of the Columbus plant.
This past summer a judge approved KiOR's Chapter 11 plan: The company sold itself to an affiliate of Khosla's, trading $15 million in debt for equity, and receiving $29 million in exit financing. The plan enables KiOR, which had about 70 employees in its Texas headquarters as of the summer, to conduct research for at least a year and figure out how to make its biofuels at a larger scale. KiOR's supporters say the core tech is still valuable and could someday be ready to commercialize.
Today many of the other biofuel startups that Khosla Ventures backed over the years have either shut down, been sold for small sums, diversified, or migrated to making bio-based materials and specialty chemicals. Khosla has argued that the stakes for the planet are so high when it comes to energy that the potential benefits easily justify the costs of flops (which, as with all venture investments, are numerous). In one blog post in 2014, he wrote that "to get to the energy-independent future we need, we must continue to try and sometimes fail, but the consequence for not trying is guaranteed failure. We will keep accepting intelligent and selective failure."
Khosla and KiOR declined multiple requests for interviews for this article, but court filings for both deny any fraud or deception. In the past, Khosla has acknowledged that at least half his green-energy businesses would fail.
How KiOR crashed so disastrously is a complex saga. The company struggled—and ultimately failed—to deliver the yields it needed. It faced constant technical problems at its factory. It was buffeted by outside forces, including a worsening environment for green-tech financing and a drastic fall in oil prices. All of that was enough to kill off plenty of biofuel startups.
But KiOR's woes were compounded by hubris and overweening ambition. It has become perhaps Silicon Valley's favorite cliché to rhapsodize about the virtues of "failing fast," and KiOR certainly accomplished that. But what is the practical lesson of that failure—that inventing new biofuels is even harder than it looks? Or that fast-moving venture capital investors are ill-suited to tackle such a technically demanding, time-consuming endeavor?
The Magnolia State
Mississippi Attorney General Hood is determined to hold Khosla and KiOR's executives accountable. In an interview in his office on the 12th floor of the Walter Sillers State Office Building in Jackson, he says, "You can't come into a poor state like this and gamble on $75 million of our money, and expect to go into bankruptcy court and walk away."
A native of Chickasaw County in northeastern Mississippi, Hood has been a prosecutor for 25 years. He initiated the KiOR suit after lawyers obtained close to 400,000 pages of documents through the company's bankruptcy case. Those documents, he says, show that the individuals involved "knew when they brought this proposal to us that their technology was incapable of producing the product that they claimed it would."
Mississippi Attorney General Jim Hood took on other companies before KiOR.Photo: Rogelio V. Solis—AP
Hood isn't the first Mississippi attorney general to wage a populist campaign against an out-of-state company. One predecessor was instrumental in extracting a $246 billion settlement from tobacco companies in the 1990s. During his tenure, Hood has taken on corporations ranging from MCI WorldCom to Google GOOG 0.04% and Microsoft MSFT 0.81% . He sometimes retains contingency-fee law firms to sue companies, as he did in the KiOR suit, which saves the state money. Hood has received hundreds of thousands in campaign contributions from plaintiffs lawyers who handle cases for the state.
To read more: http://fortune.com/kior-vinod-khosla-clean-tech/