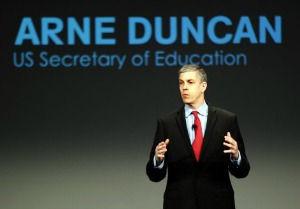 The $7 billion school improvement grant program: Greatest failure in the history of the US Department of Education?
By Andy Smarick |  | AEIdeas
The final IES report on the School Improvement Grant program is devastating to Arne Duncan's and the Obama administration's education legacy. A major evaluation commissioned by the U.S. Department of Education and conducted by two highly respected research institutions delivered a crushing verdict: The program failed and failed badly. (The Washington Post's article by Emma Brown does an exceptional job recounting the administration's $7 billion folly.)
Despite its gargantuan price tag, SIG generated no academic gains for the students it was meant to help. Failing schools that received multi-year grants from the program to "turn around" ended up with results no better than similar schools that received zero dollars from the program. To be clear: Billions spent had no effect.
When Washington spends billions of dollars on something, it's reasonable to assume it will do some good, especially when the Secretary of Education promises "transformation not tinkering." But not with SIG.
No matter how the researchers crunched the numbers, the abysmal results were the same. SIG didn't improve math scores. Or reading scores. Or high school graduation rates. Or college enrollment. SIG didn't improve elementary or secondary schools. It didn't help schools in Race-to-the-Top states or non-Race-to-the-Top states.
The results are almost too much to believe. How in the world do you spend billions and billions of dollars and get no results—especially after Secretary Duncan promised it would turn around 5,000 failing schools and hailed it as the biggest bet of his tenure?
Probably the only thing more remarkable than the scope of this program's failure is that this outcome was absolutely, positively, unavoidably predictable. Starting seven years ago, I warned that this dreadful day was coming.
To continue:http://www.aei.org/publication/greatest-failure-in-history-us-department-of-education/