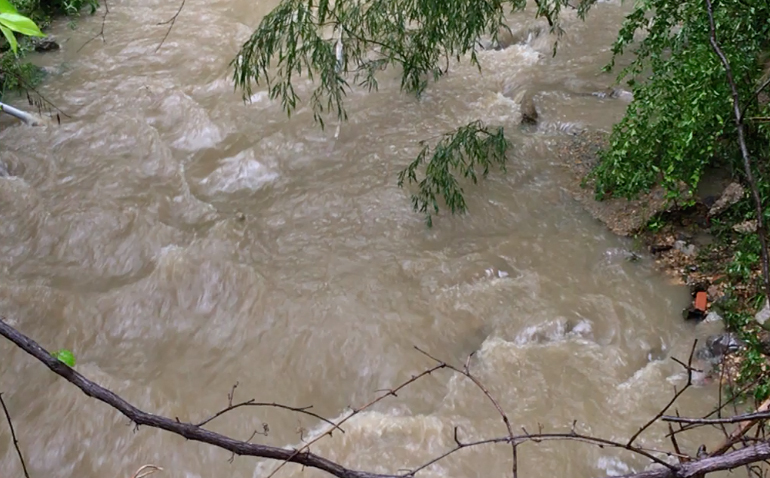 Urban Flash Flooding 2019
Flash flooding hit Belhaven's St. Ann and St. Mary streets yesterday (5/9/2019) as over 3 inches of rain hit the metro area in less than four hours. Bigger Pie has discussed the hazards of urban flooding in the past and remedies that DEQ needs to pursue. These remedies include retention ponds and weirs. The graph below from USGS shows the spike of flooding that hit Belhaven Creek during late morning.  Belhaven Creek Video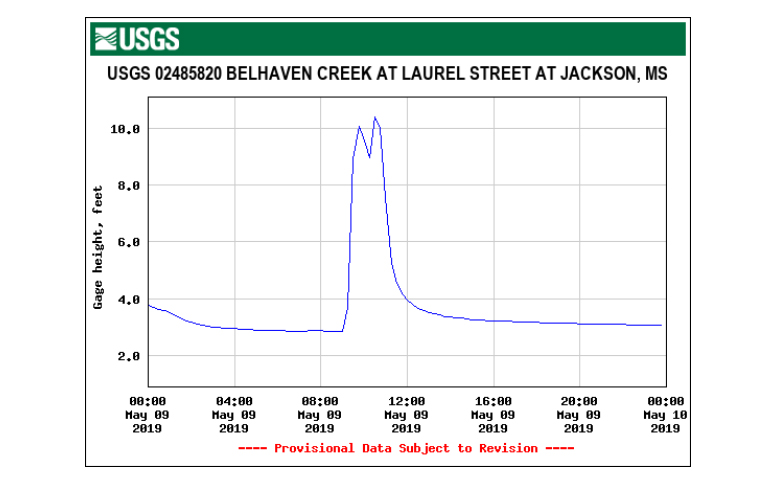 For more context on urban flash flooding, see this excerpt from BPF's earlier article:
Urbanization and Drainage:

Urbanization can cause havoc with creek and stream drainage.  We should not be surprised – over the past century, American towns and cities have replaced millions of acres of water soaking land with the impermeable surfaces of buildings, roads and parking lots.

The accompanying hydrograph [Courtesy of the U.S. Geological Survey (USGS), a unit of the U.S.Department of the Interior.] illustrates how water-flow can vary between urban and rural creeks.  The volume of water represented by the area under both curves is close to the same, but the urban creek has a huge spike in volume at the gaging station due to high level of impervious surfaces (roads, buildings and parking lots) that accelerate the flow.  Those spikes often result in flash floods that can do severe damage to homes, cars and other property.

Key Elements to Tackling Flash Floods:

The technical challenge for drainage engineers is how to best "cut the top" off the hydrograph.  Experienced engineers will tell you there are four key elements to tackling flash floods caused by urban drainage issues:

Slow the water down
Spread the water out
Soak the water in
Drain the water out

Flooding Rules:

These rules are easy to say, but can be very difficult and expensive to implement.

Flooding in urban settings is a complex and tricky issue for regulators, whether it is at the local, county or state level.  Tricky because creeks and streams and their drainage basins often run through multiple jurisdictions.