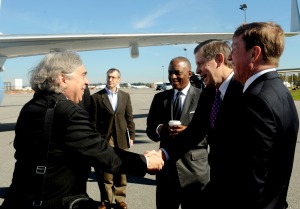 Wingo: I told Southern CEO Fanning that Kemper timeline was a fraud
by Eddie Curran | http://mrdunngoestomontgomery.com/
Records show muzzled former Kemper construction supervisor warned Mississippi Power and Southern Co. executives that they were reporting false construction
timelines for completion of the multi-billion dollar Kemper plant in their filings with the Securities and Exchange Commission and to the investing public
Below, a portion of a September 2014 letter from Wingo's lawyer to Southern Co. executive vice president Kimberly Green.  Though hardly the first such warning by Wingo, this shows he was telling Southern Co.'s top brass that the Kemper Plant completion date then being publicly forecast was "not realistic." Wingo's allegations, on this matter and others, have been substantiated by events.
Feb. 15, 2016
Author's Note: This is a follow-up to a report on this web-site published last February. That story (HERE) provides the legal background of the effort by Southern Company to prevent Brett Wingo from revealing what the company, in its court filings, described as highly confidential information that would cause Southern Co. "substantial and irreparable injury" were it to become public.
I did not know nor had ever heard of Wingo before coming across the lawsuit. He later said the story helped him by shining a light on Southern Co.'s effort to silence him. He promised that if he were ever able reveal the information the company feared, he'd provide it to me.
Monday night, Wingo called me, and for the first time told me why the company went to court to compel his silence. He also provided some of the supporting documents, links to three of which are at the bottom of the story.
They include the Sept. 23, 2014 letter from Wingo's employment lawyer, John Saxon, seeking to negotiate a parting severance deal with Southern Company and an accompanying letter Wingo provided to Southern Co. executive Kim Greene.
In the more than two years since I've been working on this project neither  Southern Co., nor Alabama Power has responded with meaningful responses to my questions. So, I'm going with the story tonight, with no effort to contact them.
If any media pick up this story, I ask that they credit this website for having it first and look forward to reading, in their stories, responses from Mississippi Power and Southern Co.
Also: In the next week or two I will new posts related to the multi-million dollar "dark money" campaign by  Alabama Power — and by extension, Southern Co. — to defeat former Alabama Public Service Commissioner Terry Dunn and provide public relations cover for the Alabama PSC when it raised Alabama Power's rates by five percent in December 2014.
BY EDDIE CURRAN 
As Brett Wingo remembers it, in early 2014, construction managers working on the multi-billion "coal gasification" plant in Kemper Co., were being told that going even one day into 2015 without the plant operating and producing power would result in a "financial Armageddon."
Federal tax incentives of up to $500 million — a figure also known as half a billion dollars — were in danger of evaporating if the deadline wasn't met. This bit of bad news seemed inevitable, though, at least according to Wingo, not something company officials were ready to reveal to the investment community.
In its periodic filings with Securities and Exchange Commission, Mississippi Power and Southern Co., continued to assert to the SEC, and thus, the investing public, that the plant was on track to begin producing power during the final quarter of the year.
Here's one such projection in an 8K filed by Mississippi Power on Jan. 28, 2014.
Wingo said he and others at Kemper, including top officials with Mississippi Power, knew there was no way the project would be finished by the end of the year. Wingo asserts that, to keep this news secret, Mississippi Power officials "hijacked" the construction schedule for the all-important coal gasification portion of the plant.
"It was BS, an absolute fabricated lie," Wingo said. "The way they did this is they broke logic ties in the schedule."
He compared it to a schedule for building a house. The foundation must be poured before contractors erect the framing; the frame must be up before the siding is installed, and so on.
Wingo said some of his superiors went into the computer program used for the project scheduling and "broke the logic ties." Tasks that logically could not begin until prior tasks were completed were shown, on the altered scheduled, as proceeding concurrently with tasks as yet unfinished.
This allowed the company to present a schedule showing a false completion date, Wingo said.
Wingo said he reported his concerns to a Mississippi Power executive on Feb. 27. No action was taken. On March 10, Wingo — some might say, brazenly — called Southern Co.'s Atlanta-based CEO Tom Fanning.
During a 21-minute call, Wingo said he warned Fanning against signing any financial reports to the SEC showing a projected completion date by the end of 2014.
The reason: Because there was no way the project would be completed by then, Fanning and company officials would be placing themselves in jeopardy if it were to be subsequently found that they misled the SEC and the investing public.
"He was perfect on the phone. He said all the right things," Wingo recalled, of Fanning. "I told him there was a fraud being perpetrated on the project, that they hijacked the schedule to make it look like 2014 was achievable."
But the expected response didn't happen. On April 2, Mississippi Power filed another 8K with the SEC. Here's the portion reporting the projected completion date of the plant:
On April 28, 2014, Mississippi Power filed an 8K that, this time, informed the SEC and investors that, no, the Kemper Plant would not be completed by year's end, but rather, in the first half of 2015.  The company did announce, though, that it would begin producing power at Kemper — but with natural gas purchased on the market and not, as the plant is designed, by gasified coal.
To Continue: http://mrdunngoestomontgomery.com/wingo-i-told-southern-ceo-fanning-that-kemper-timeline-was-a-fraud/