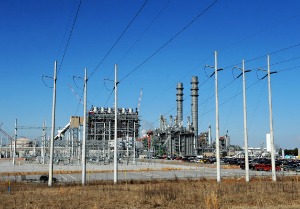 By Kelley Williams, Chair, Bigger Pie Forum, September 25, 2016
Obamacare and Mississippi Power's Kemper County Lignite Plant are a lot alike.  Both are big expensive over-hyped complicated unworkable government experiments.  Both are destructive. The Chicago Tribune (an unlikely critic) recently wrote this about Obamacare:  "… it flunked Economics 101 and Human Nature 101."  It explains why and concludes with: "The next President and Congress either reckon with Obamacare's failures or … wait for the thud."
Mississippi's Public Service Commission can either reckon with Kemper's failures now or wait for the thud.  It's waiting for the thud.  It said as much at an "open mic" hearing in Meridian last Tuesday.  Specifically, it said it's in a holding pattern. It's waiting for Mississippi Power to get the plant's gasifier fully operational and submit a request for a rate increase.  Don't hold your breath.
Dithering. It's too embarrassing and painful for the PSC to acknowledge and deal with Kemper's obvious failures which it facilitated. So it dithers. Meantime, it's painful for customers. That's because customers are paying a 15% rate increase the PSC approved last November for part of Kemper cost.
The PSC's job is to regulate public utility monopolies.  Its authority comes from the legislature.  It can authorize capacity additions and rate increases to pay for them if they prove to be prudent.  It is supposed to see that customers get reliable affordable electricity and that companies supplying electricity get a reasonable return on their (prudent) investments. 
It has failed Mississippi Power's customers.  Their rates were the highest in the state even before the pre-emptive 15% increase.  The increase was for $800 million cost of Kemper's turbines and some extras.  They have been running on natural gas.  They are just part of the plant and a fraction of the cost of the rest of Kemper which is now over $6 billion.  That's the thud that's coming.
The PSC has tied itself in a regulatory knot.  It has said the turbines are conditionally prudent (i.e., used and useful or economical) pending the determination that the rest of the plant is prudent too.  The rest of the plant is the experimental gasifier that is supposed to partially burn lignite to make a synthesis gas substitute for natural gas. 
The CEO of the Southern Company, Mississippi Power's owner, has been promising that the gasifier will be operational "next month" for over two years.  He and President Obama are a lot alike. They make promises they can't keep. You can't trust them. The President is beginning to worry about his legacy.  It's dawning on him that reality is catching up with hype. 
Reality intrudes. Reality is beginning to catch up with the CEO's hype too.  And It's beginning to dawn on the PSC that the gasifier is probably not going to operate – for years – if ever.  And even if it does, it's not going to be useful because it's not going to be economical because its synthesis gas will cost much more than natural gas.   
The PSC has a dilemma.  It knows it should holler calf rope and put the gasifier out of its misery.  And put customers out of theirs.  And quit pretending that something is going to happen to justify customer's paying for part of the gasifier and overpaying for the turbines.  But the PSC doesn't know how to get out of the regulatory thicket it's in due to its own feckless decisions.  So it dithers.
Its "open mic" hearings are a way to dither and make it look like it's doing something.  And maybe find a way to cut the regulatory knot.  It has two more hearings planned.  It is asking the public to weigh in with comments and questions about Kemper. 
Pay more for less? It got some good ones last week in Meridian. Bigger Pie's Charles Grayson noted that Southern's CEO told analysts that Kemper's turbines produced a third of Mississippi Power's electricity in 2015 running on natural gas.  That's about 20% more power than the gasifier can produce if it operates.  Then he asked: How will the PSC explain to customers a big cost increase for less power if it approves the gasifier?
Commissioner Presley said … Errr, you have to consider reliability.  (The old dual fuel argument.) Does that mean he thinks the experimental Rube Goldberg gasifier will be a more reliable source of gas to run the turbines than thousands of natural gas wells?  Let's hope not.
Watchdog's Steve Wilson asked: Can Kemper vent CO2 to the atmosphere if it can't sell it?  It was supposed to sell CO2 to Denbury Resources to inject in old oil fields to stimulate production (enhanced recovery).  But oil prices are down and Denbury is in dire financial straits.  It's an iffy buyer.  Other buyers are not waiting in line.
The whole point of Kemper's experimental clean coal technology was to reduce CO2 emissions by storing it under ground.  That's the reason it got millions in federal grants and tax credits.  Kaput!  The revenues from CO2 were also supposed to offset some of Kemper's cost.  Kaput! 
Commissioner Brown said that Kemper cannot vent the CO2 to the atmosphere.  If Denbury doesn't take the CO2, Mississippi Power must find someone else.  The PSC certified Kemper for construction assuming there would be CO2 revenues.  If there aren't any or if they are less than promised, could the PSC decide the gasifier is not prudent?  A way to cut the knot? 
Despite the CEO's hype, odds are not good that the gasifier will be deemed prudent.  It may take years for this to play out.   Why should customers pay more in the meantime? 
Flunks.  Kemper flunks Economics 101.  The PSC flunks Human Nature 101.  Customers don't want to pay more to make environmentalists happy – or to pay for the PSC's and Mississippi Power's mistakes.  They shouldn't have to.