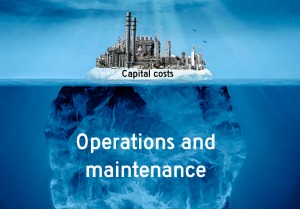 Utility admits Kemper Project could be costlier to operate than originally estimated
By Steve Wilson  /   October 18, 2016
When talking about the Kemper Project clean coal power plant, it's easy to get hung up on the plant's capital costs, now up to nearly $6.9 billion.
Like an iceberg, there is a cost category lurking below the surface that could add up to even higher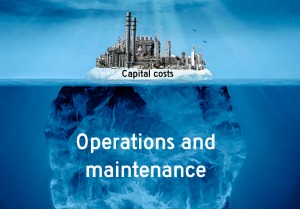 utility bills for Mississippi Power's 186,000 customers in south Mississippi. The utility admitted in a filing with regulators that its Kemper Project clean coal power plant could cost much more to operate and maintain than it originally estimated, up to $1 billion over the first five years the plant is in operation.
That represents a 288 percent increase over the utility's original projections for the integrated gasification combined cycle plant. Also, if the utility decides to run the plant primarily on synthesis gas made from lignite coal rather than natural gas, customers will get less generation capacity — 582 megawatts versus 732 megawatts — for a much higher operations and maintenance price tag.
The company estimated the operations and maintenance costs for Kemper at about $258 million over five years when it originally sought authorization in 2010 from the Mississippi Public Service Commission to build the plant.
Maintenance and operations costs for Kemper, now two years behind schedule and billions over budget, have been on a steady uptick. The utility told the PSC in 2013 that it would cost $515 million to maintain the plant for the first five years of operation.
That might not be the end of the cost increases required to keep Kemper operational on syngas. In testimony, plant manager Samuel Sumner Jr. told the PSC that further evaluations of the plant's operations and maintenance costs might be required as more is learned during sustained use.
An equivalent natural gas plant would have been much cheaper, both in terms of capital and operational costs. Mississippi Power calls Kemper a dual-fuel plant, but the facility's turbines have increased generation capacity on natural gas, a difference of 148 megawatts.
The U.S. Energy Information Administration estimated a 400-megawatt advanced natural gas plant would cost about $18 per kilowatt year — which is a unit of electrical capacity equivalent to one kilowatt used for 8,760 hours — to operate and maintain. The EIA estimates that a 500-megawatt IGCC plant like Kemper would cost more than $80 per year per kilowatt to maintain.
Using those numbers, a natural gas plant with the same capacity as Kemper running on natural gas, 732 megawatts, would cost $32.94 per kilowatt year. Running Kemper on syngas at 582 megawatts of capacity would cost more than $94 per kilowatt year to operate.
The plant is set to become operational on syngas Nov. 30 after it was able to generate its first electricity from syngas last week. The company said its next steps are to place the plant's other gasifier into operation and integrate the gas cleanup system that removes byproducts such as carbon dioxide, sulfuric acid and ammonia from the syngas stream.
According to testimony by Kemper Project director Steven Owen, the company estimates it will cost about $294 million to finish the plant.