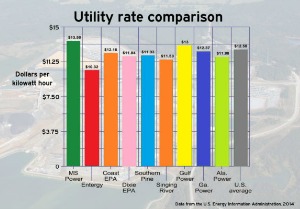 Mississippi's Kemper Project in three charts
By Steve Wilson  /   June 7, 2016  /  www.MississippiWatchdog.org
The Kemper Project is a controversial clean coal power plant that's designed to convert lignite coal mined on site into a natural gas-like substance called synthesis gas to fuel its electricity-generating turbines. The plant is billions over budget and two years behind schedule and has been running on natural gas since August 2014.
Here are three graphs that explain why this $6.74 billion plant is an increasingly bad deal for consumers:
Mississippi Power rates are some of the highest in the Southeast, according to the latest report from the U.S. Energy Information Administration. The Mississippi Public Service Commission last authorized a 15 percent rate increase in December to help pay for the parts of Kemper already in service. Another 18 percent increase was struck down by the Mississippi Supreme Court in February 2015 in a case brought by Hattiesburg businessman Thomas Blanton.
A filing before the PSC by Entegra Power Group said the break-even point for ratepayers on Kemper, running on synthesis gas, would require natural gas prices at $11 to $12 per million British Thermal Units. Today's prices are on the cusp of a three-month high at $2.424 per million BTUs on the New York Mercantile Exchange, according to the Wall Street Journal.
Since 2008, the price of natural gas hasn't approached the $11 to $12 per million BTU range. The plant was announced in 2006 and construction begin in 2010.
Under the terms of a deal reached with the PSC, the Southern Company has to file monthly progress reports. The April filing with the U.S. Securities and Exchange Commission marked the ninth consecutive month with a cost increase for Kemper. The plant, according to the company's announcement in December 2006, was supposed to cost $1.8 billion.
http://watchdog.org/267105/kemper-project-18/