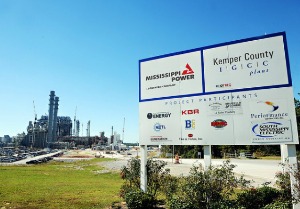 Kemper's Budget Busting Blues
Ashby Foote |29 July 2016| President Bigger Pie Forum | President Vector Money Management | Jackson City Councilman
In a recent Northside Sun commentary, my friend Cecil Brown called out the state legislature charging that, "The Mississippi state budget is a mess."  A CPA, Cecil spent 15 years as a state representative where he did more than his share of stubby pencil work on the state budget.  Before that he served as the State Fiscal Officer and
Executive Director of the Department of Finance and Administration under Governor Ray Mabus. In short, Cecil Brown understands budgets and the critical role they can play in determining an organization's success or failure.
But as messy as the state budget is, it stands like a paragon of fiscal rectitude next to the multi-billion dollar black hole that is Mississippi Power's (MP) controversial Kemper Integrated Gasification Combined Cycle (IGCC) Power Plant.  The plant is years behind schedule and $4.5 billion over its 2010 cost estimate of $2.4 billion.  It is fair to say that it is the biggest busted budget in the long history of Mississippi.  Even now, two years after the IGCC's planned 2014 start-up there is no guarantee it will even work.  Coincidentally and ironically, the Kemper project now falls under Cecil Brown's new area of oversight as a freshly elected member of the Public Service Commission (PSC).
The PSC needs to consider these facts:
While the legislature contemplates a $70 million dip into the state's $350 million rainy day fund, MP has been gulping down hundreds of millions from the rainy day funds of their 186,000 rate payers thanks to PSC sanctioned rate increases in advance to pay for the still unfinished and unproven Kemper project.
A 585 megawatt (MW) combined cycle natural gas (CCNG) plant would have cost MP $600 million, but MP used wildly inflated natural gas price projections to make the case that CCNG was uncompetitive.  Years later the State Supreme Court ruled 9-0 against MP in a Freedom of Information Act (FOIA) case to make public those natural gas price projections.  Those projections, made in 2009, forecast that by 2016 natural gas prices would average $12 per million BTU.  Seven months through 2016 natural gas has averaged $2.30 – a 500% miss by the energy experts at MP.  Alas, that is not all they missed – their estimates on the cost of Kemper were just as erroneous on the flipside.  One is left to wonder if today's gargantuan cost overruns might not be a result of lowball, 'teaser' estimates on the front end to make Kemper IGCC look more competitive when it never really was.
Even the 2010 Kemper cost estimate of 'just' $2.4 billion was uneconomical for a plant that will produce just 16%, or 585 MW, of MP's needed capacity.   It is crazy for a company like MP with equity of $900 million to invest $2.4 billion on one experimental plant.  Concentrating over 60% of the company's equity in one experimental project that would produce less than 20% of required capacity exposed MP's entire system to the risk of financial failure.  That MP and its parent Southern Company (SC) would continue the project when the price climbed to $2.8 billion, then $3.8 billion and now $7 billion was and is folly.  Was it their strong confidence that the PSC would bail them out with ever higher rates on rate payers that kept them throwing so much good money after so much bad?
And it's no longer just the Bigger Pie Forum and the Northside Sun that are ringing the bell on this billion dollar boondoggle.  The S.E.C. recently launched an investigation into the Kemper project and the nation's newspaper of record, the New York Times, recently published in print and online the major expose about Kemper, "Piles of Dirty Secrets Behind a Model 'Clean Coal' Project".  In addition lawsuits from disgruntled vendors and customers are piling up on the company's front door.  It is no secret that the national reporters that cover the utility industry consider Kemper the worst power project in the country.  The sad fact is the oversight provided by the PSC has been behind the eight ball regarding Kemper for ten years and the calamity has now attracted a national audience.  Kemper has now moved from a discussion of sloppy budgets and business practices into the realm of potential criminal behavior.
The good news is that Cecil and his two very capable fellow PSC commissioners have been handed a great opportunity to get some clear insight into what was going on inside the Kemper project as the costs exploded from $2 billion to over $7 billion.  This sunshine is available thanks to a whistleblower who has come forth regarding mistakes, mischief and outrageous conduct by the management of MP and its parent, SC.  The whistleblower, an engineer, was a project manager on the frontlines of the project from 2011 to 2014 and he is at the heart of the S.E.C. investigation and the New York Times expose.  In the interest of due diligence and good government, the PSC needs to hear what the whistleblower has to say and it needs to be done where the public can tune in as well.
What is at stake is not just the budgets of the Kemper project and Mississippi Power but also the budgets for decades to come of MP's 186,000 rate payers.  Will the PSC get it right?  To borrow Cecil Brown's words from his state budget commentary, "If they are wrong, it will be the unelected, hard-working, honest people of Mississippi who will suffer the consequences long after the current leaders have left office."