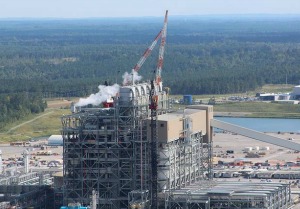 KEMPER PLANT DELAYED AGAIN, COSTS RISING
Posted by
Mississippi Power says it's pushing back the start date another month the controversial Kemper County Energy Facility. As MPB's Mark Rigsby reports, estimated costs for the nearly $7 billion plant continue to increase.
CLICK HERE TO HEAR THE INTERVIEW IN FULL.
In the company's latest filing with the Securities and Exchange Commission, Mississippi Power now expects the Kemper facility to be fully operational during January 2017. It was just days ago, the company was confident in meeting its December 31st deadline. Company spokesman Jeff Shepard.
"We understand the frustration. We're frustrated that it's taken longer than we originally anticipated, but we want to get it right. We're not going to sacrifce safety for the schedule. No one dragging their feet on this project whatsoever."
The company also announced an additional $68 million will be needed to operate and maintain the plant.
"All costs related in that $68 million will be paid by Mississippi Power and Southern Company, and not Mississippi Power customers."
Charles Grayson is the director of Bigger Pie Forum, a non-profit, Mississippi watch dog group. He says the Kemper project is not economical, and should be scrapped.
"We just felt that a new plant of this type, on the scale that was being built was just a set up for a huge misfire. It was going to be a huge mistake. Because of the political power that was behind the idea from the beginning, this never got close scrunity."
The company will likely miss $250 million in tax breaks by not having the plant on-line by the end of this month. And, costs will increase to $35 million each month the start date is delayed. Mississippi Power says updates to the total cost estimate should be available in January.
http://www.mpbonline.org/blogs/news/2016/12/06/kemper-plant-delayed-again-costs-rising/