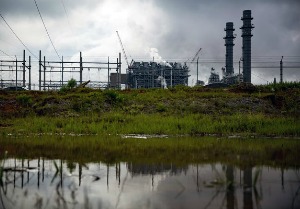 Kemper Hubris Exposed By Reality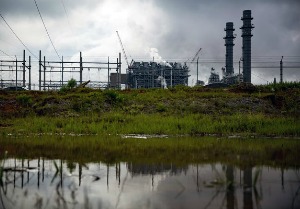 The entire Kemper plant still does not operate for more than a day or two, with long shutdowns in between.  Commercial Operation Date (COD) is a regulatory designation after which costs are considered for recovery from customers.  Until then, Southern Company must write off the large monthly costs incurred for the non-generating assets.  Failure to achieve COD for the lignite processing assets would be a big win for rate payers.
Mississippi Power Company (MPC) filed Chart 1 on October 3, 2016.  It shows the percentage of time the Kemper plant is projected to operate burning lignite each for the first 5 years after Commercial Operation Date (COD).  The red line shows the projections before the PSC approved construction of Kemper in 2009-2010 and is considered the "performance promised" by Southern Company (SO).  The blue line projections made in 2016, are well below earlier promises.  Current Availability projections for the first year of operations do not meet a reasonable threshold to declare COD.  The blue line suggests COD is not months away but possibly years.  Regulatory proceeding could be frozen in place indefinitely.
CHART 1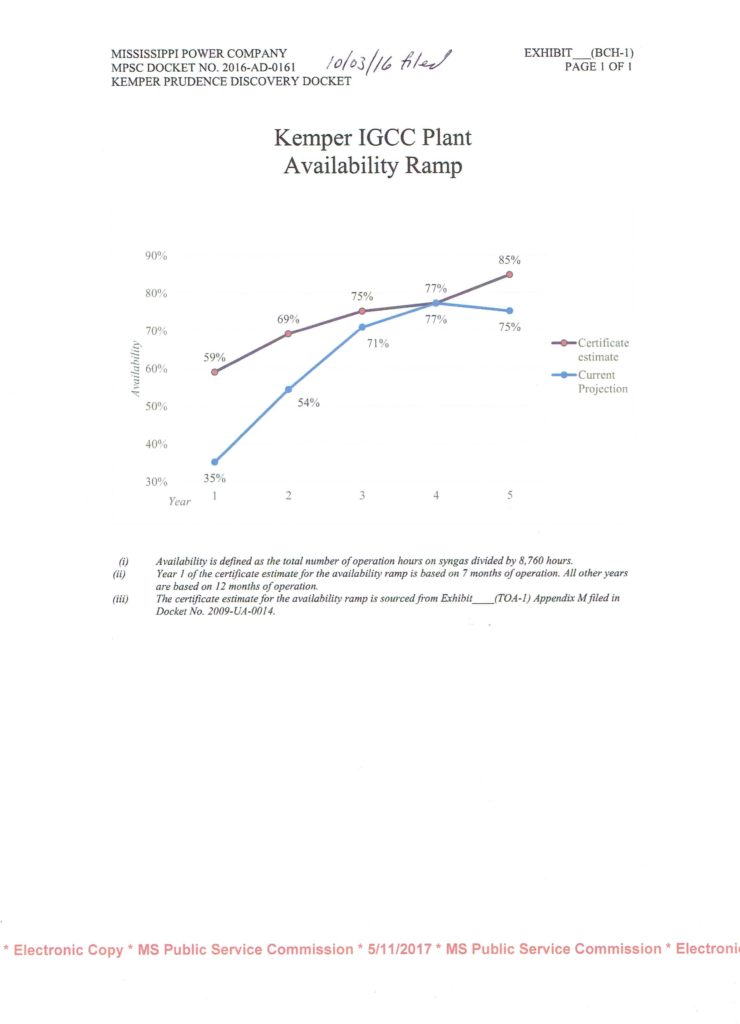 Here is the simple story told by Chart 1
COD is highly unlikely by early 2018.
PSC rate increases for lignite gasifier costs are unlikely in 2017 without COD.
If no gasifier COD, rates for turbines burning natural gas probably reduced late 2017.
Southern Co. (SO) and MPC continue to write off most gasifier startup costs.
MPC with SO approval, negotiates a settlement of the Kemper construction costs.
SO negotiating a final settlement would be admission of a weakened position.
Final Kemper cost allocations more favorable for rate payers than have been feared.
Kemper was a mistake driven by "free" federal money and politics.  Forgotten were sound planning and the realities of chemistry, physics and economics.
Don't spike the ball in the end zone yet.   Southern Co. doesn't want to write off over $3.5 billion more ($6.5 billion total).  They will fight hard for MPC retail rate payers to pay for Southern's mistakes and mismanagement.   Millions in bonuses are not given up easily by cloistered managers.
In 2015, the CEO of MPC said 1-2 days of plant operation would qualify for COD.  This year, Tom Fanning, CEO of Southern Company, said about 4 days of operation should qualify for COD, but he noted MPUS did not agree, demanding a longer period.
How long must all the complex parts of Kemper operate together to achieve Operational designation (COD)?  Suppose MPUS requires several weeks or months?  After 2 years trying, SO and MPC have been unable to achieve even 1-2 days.  What are the odds Kemper suddenly runs smoothly?  Bigger Pie thinks it's zero.
But wait, there's more.  What operating rate must Kemper average over the test period and what level of power output?  Assume MPUS is once bitten, twice shy.  Presumably, threshold criteria will be tough enough to expose reliability problems.  COD is unlikely by early 2018 and possibly not even in 2018.
Until the PSC approves COD, most costs incurred for the gasifiers must be written off by Southern Co.  After COD, most costs go into customer rates—only if the PSC finds the gasifiers Used and Useful and the capital Prudently spent.  Final Used and Useful designation; however, awaits the plant running 12 months at 89% availability.  Per Chart 1, that is 5+ years after the illusive COD.   Anyone say 2025?
Southern, without COD, your choices are either negotiate from a weakened position or Slow Agony and Sure Death going for the gold ring.