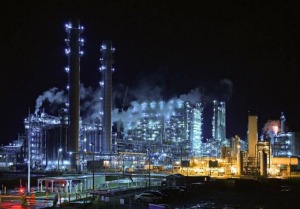 Kemper Gasifier: SLOW AGONY, SURE DEATH
By Charles Grayson – Bigger Pie Forum – December 5, 2016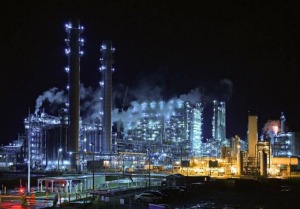 Cancer can often be "cured" (remission) if treated before metastasizing to other organs.  Remission after advanced metastasis is nearly impossible, slow agony and sure death.
The Kemper clean lignite project  is a cancer in Mississippi's economy.  It must be treated quickly if Southeast Mississippi's economy is to avoid an agonizing death spiral.  Shutter the mine and lignite gasification.   Southern Company would write off $3.3-3.5 billion more.  Neither regulation nor the U.S. Constitution ensures utilities a profit on an investment benefiting no one.  Other options only manage varying degrees of damage to Mississippi's economy.
Kemper In PSC Court
The Kemper gasifier reliability and costs will be unknown for many years (see article "Kemper: In PSC's Court).  If the gasifier is not abandoned soon, Mississippi Power Company (MPC) rate payers face years of uncertainty and declining job prospects.  To cap risks to the state, the PSC must maintain total uncertainty for MPC cost recovery until the plant demonstrates base-load operations and economics, but that is seven or more years per recent MPC filings.  If MPC faces years of problems and increasing costs with no assurance of recovery, pressure from financial markets will intensify.  I believe uncertainty of cost recovery coupled with years of expensive plant fixes will force MPC to seek a negotiated (stipulated) final settlement for Kemper.  A negotiated settlement would be faster and allow the PSC flexibility not available within current rate-making constraints.  Interim rate increases related to gasifier investments should be made refundable until Kemper passes very stringent criteria for final Used and Useful plus Prudency by end of 2024.
Rate Plan Options
As shown in the photograph, rate payers get the power they need at competitive prices from a small part of Kemper costing less than $1 billion.  Over $6 billion is for a costly Southern Company mistake.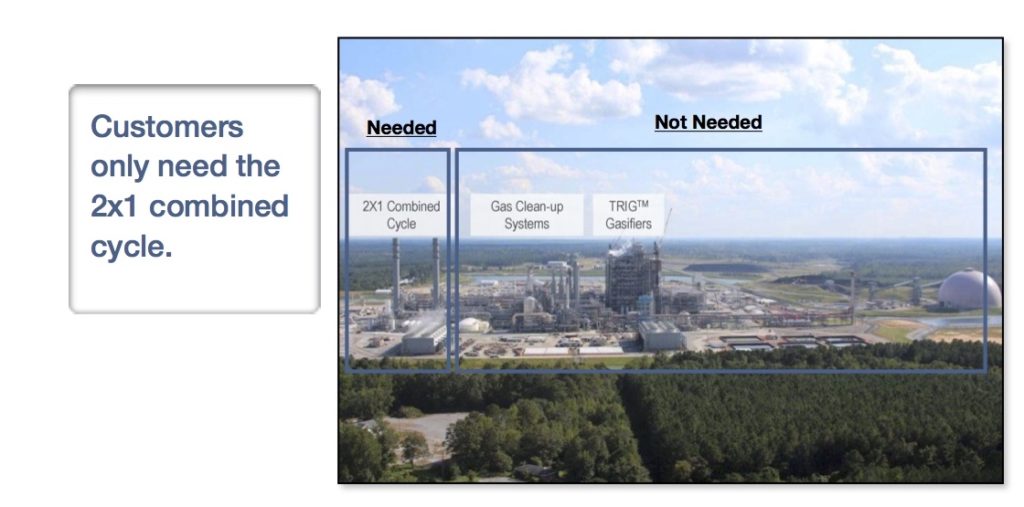 There are three broad rate options for Kemper: best for rate payers, split the baby or best for Southern.  Cost increases for retail customers range from 12% to 65% per year compared to 2015.   Options assume retail customers pay no costs for $625 million capital not invested by SMEPA (Southern Mississippi Electric Power Association), leaving $3.6 billion Eligible for Recovery. Other assumptions are outlined in Note 1 below.
Cost increases approved by the PSC will differ somewhat from our estimates, especially for the early years, as the PSC and MPC will use Rate Mitigation Plans.  A portion of actual costs will be put into an accrual (savings) account on which Southern earns a return of over 9% until the costs are collected from customers in the future.  Mitigation plans lower cost increases in the short term but increase total costs to customers in the long term.  We assume no mitigation and limited tax shifting for our estimates.  Also, our cost increases include Base Rate plus operating and maintenance costs (O&M). 
Option 1:  Best for customers, worse for Southern.  Southern pays for their mistake, customers pay for generating turbines and transmission line extensions with natural gas fuel.  Base Rates decline to 11% in 2018 from the 16% increase for 2016-2017.  Add 1% O&M for 12% total cost increase.  Prior PSC Orders create a legal presumption of MPC's right to recover all capital costs.  PSC approval of this Option 1 therefore requires either proof that Southern knowingly provided false and misleading information or that the gasifier never achieves Used and Useful designation.
2016 Base Rate increase of $126 million/yr. drops to about $85 million/yr. by 2018.

16% Base Rate for 2016, declines to 11% in 2018, plus 1% for turbine O&M, results in 12% total cost.

The mine, gasifier, and CO2 pipeline are abandoned.

Southern writes off an additional $3.3-3.5 billion or over $6 billion total.

Retail customers continue receiving power from turbines burning natural gas for life of the plant.

Base Rates for generation units and transmission line extension only.

Best possible option for retail rate payers and Southeast Mississippi economy.
Option 1.B:  Syngas production is transferred to a legal entity separate from MPC Kemper Power Generation.  For rate purposes, Syngas is offered as fuel to MPC Kemper Power Generation competitively priced against natural gas.  A true economically driven dual fuel plan.   In theory, it provides a path to a return of and on capital.    This structure requires stipulation, not regular rate making, and could take years.   Customer costs would be about 12% as in Option 1.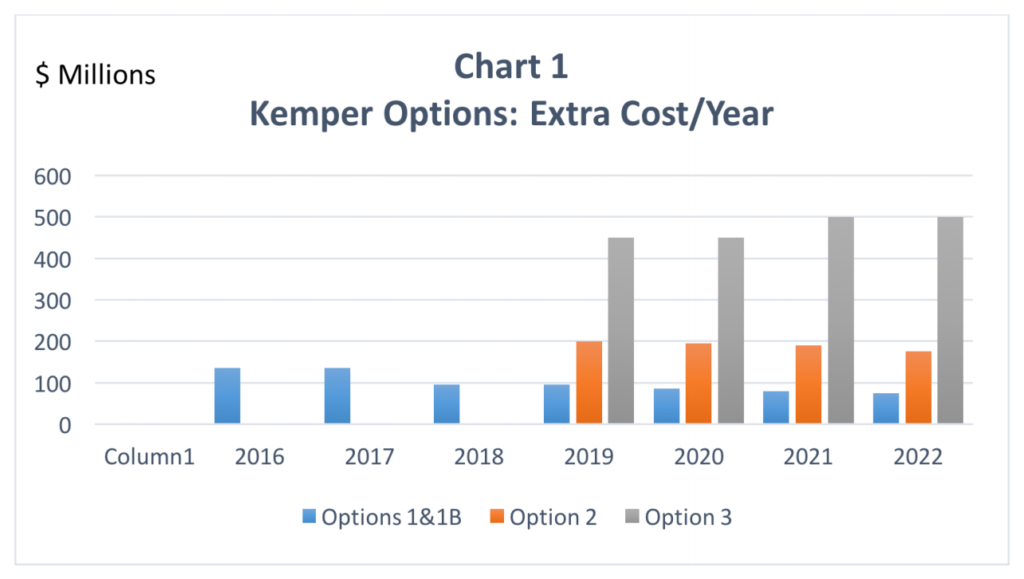 Option 2:  The best split-the-baby solution.  The PSC takes a hard line on Used and Useful, Prudency, Operating and Maintenance (O&M) cost sharing, by-product revenues and return on equity for Prudent Kemper mine, gasifier and CO2 pipeline assets.  These are within existing PSC Orders and authority.  Southern would receive return of Prudently determined capital, but not a return on equity.   Neither regulation nor the U.S. Constitution ensures utilities a profit on an investment benefiting no one.  MPC would earn a return on equity for the turbines and transmission lines.  Total retail cost increases would be 24-28% compared to 2015. 
Retail customer costs increase $190-$220 million/yr., about $110 million more than Option 1.

Cost increase of 24-28% over 2015 including costs shown in Option 1.

Can be used even if the PSC is legally bound to Used and Useful and Prudency determinations for syngas related investments; gasifier reliability is as promised.

 

The PSC has flexibility in determination of Commercial Operation Date as well as Used and Useful. 
Proposed for Used and Useful:

 

Plant must achieve 89% availability, produce 4.2 billion kWh on syngas in a 12-month period at a cost no more than 20% higher than from the turbines on natural gas.

 

If the cost standard is not achieved, Kemper should not be deemed beneficial to rate payers. 

Elimination of Eligible for Recovery construction costs caused by poor project management. 

Southern takes a modest sized write off in addition to the $625 million for SMEPA's withdrawal.

 

Total Prudent capital less than $3.5 billion.
About 65% of O&M costs as projected in the December 2009 hearings, or about $35-40 million/yr., charged to retail customers.

 

MPC responsible for all other O&M.

MPC required to make up the difference to rate payers for by-product revenue shortfalls below $50-60 million.

No return on syngas invested equity until power costs from syngas equal costs from the Kemper turbines on natural gas with only the assets currently (2016) in retail customer rates.

Debt to equity not to exceed 2/1 ratio. 
Option 3:  The PSC panders to MPC.  Best for Southern, worse for customers.  This would be extremely painful for retail customers and Mississippi.  Southern would rejoice.  Cost increases for retail customers could be up to 65% or even higher depending on plant reliability and escalating operating and maintenance costs (O&M).
Cost increase to retail customers of $350-$500 million/yr. depending on capital related and O&M costs sharing formula, by-product treatment, deferred costs from first 7-8 years (the ramp up years).

Cost increase of 45-65% including costs from Option 1.

If the syngas plant is approved, but becomes less reliable, cost increases could go higher.

For rate making purposes, Used and Useful and Prudency on about $3.6 billion.

O&M recovery by MPC at actual costs which will increase significantly over time.

Whether the SPE bond is issued and changes in the debt to equity ratio will influence costs.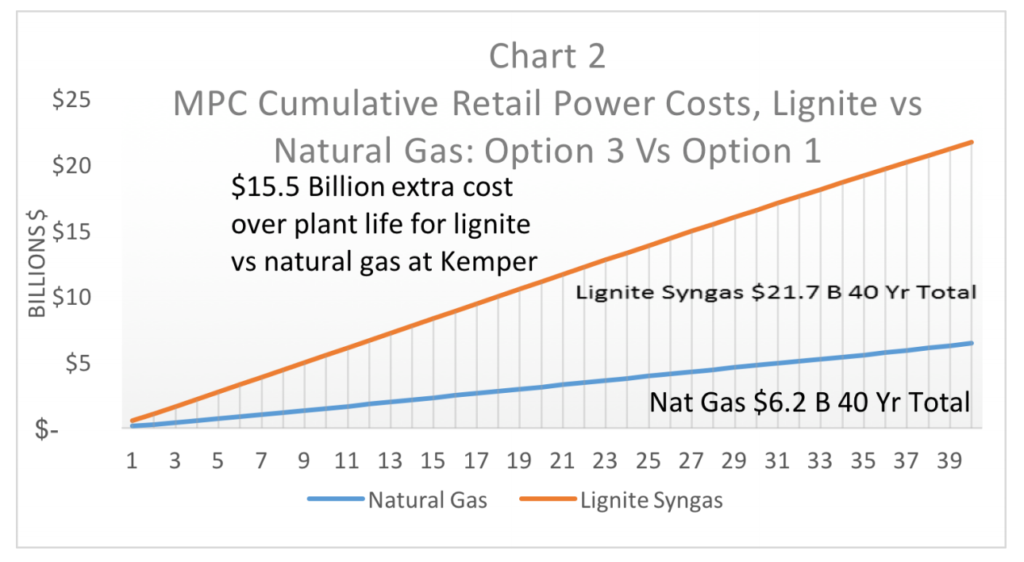 Chart 2:  Shows the potential extra total costs to MPC Retail customers over the life of the Kemper plant with lignite fuel (orange, Option 3) versus for the Kemper turbines burning natural gas (blue Option 1).  Natural gas prices are assumed to rise steadily from $3.50/MMBTU currently to $7.00/MMBTU.  In 2016, the U.S. Energy Information Agency projected natural gas prices delivered to electric utilities at about $5.50/MMBTU in 2040.  Escalating natural gas prices to $10/MMBTU in the last 10-15 years of Kemper life does not significantly alter the comparison shown in Chart 2.
Note 1: 
Mississippi Power Retail Customers Total Electric Power Costs for 2015 Were $776 Million.
Our cost changes include Base Rate plus O&M costs, but not fuel costs.

 

Comparisons are to 2015 retail customer total cost which do include fuel.

 

Costs to operate Kemper on lignite are much higher than we show since a portion of Kemper costs will be borne by MPC wholesale customers not under PSC jurisdiction.

 

We subtract from Eligible for Recovery the $625 million SMEPA was to pay acquiring capacity; Southern will presumably pay it.

 

The PSC has considerable latitude to reduce the risks and impact of operational problems on retail customers.

 

How much cost will Southern be required to absorb to reduce the impact on Mississippi?
We assume neither rate mitigation, pushing costs into the future to reduce near term rate increases, nor tax deferral.

 

Mitigation and other cost deferrals, in general, lower current costs but increase future costs and total life time costs of a project.