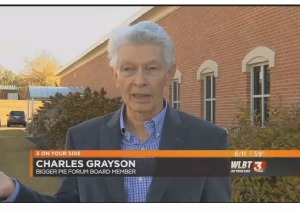 Kemper County power plant almost fully operational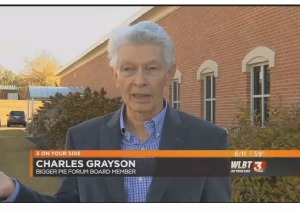 WLBT – News clip. Charles Grayson interview
KEMPER COUNTY, MS (Mississippi News Now) –
The Kemper County power plant is one of the most expensive power plants ever built. It's more than two years past it's projected deadline and it's four billion over budget.
The company now says the plant should be in full service by the end of the year, but some are still skeptical.
The total cost for the massive plant is now up to nearly $7 billion.
"This will be very expensive even if it fulfills all the promises," said Bigger Pie Forum Board Member Charles Grayson.
Mississippi Power announced last week that the second of two gasifiers is generating electricity. The President and CEO called it a "substantial step forward for the project". But critics say the rest of the milestones simply aren't necessary.
"The people in South East Mississippi are currently getting the power they need from the Kemper site with just a little bitty piece of the plant," added Grayson.
The turbines are working, but the part that converts lignite coal into gas is what's not operational. Once it's all online, they'll get the chance to request rate adjustments or increases.
"My position's always been very clear. I don't want the customers to pay for the mistakes that Mississippi power company and Southern Company have made and I will not vote for that," said Public Service Commissioner Cecil Brown.
But what if you aren't in the Mississippi Power service area? Brown says you could still be impacted. Other power companies buy and resale power from the company and so do public institutions like colleges.
"I think probably 75% of the people of the state of Mississippi have a vested interest in what goes on with the Kemper plant because it's going to affect an awful lot of people," added Brown.
Copyright 2016 MSNewsNow. All rights reserved.