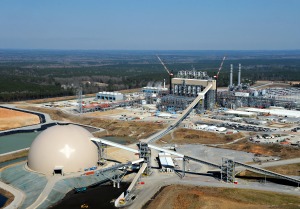 Kemper: An Imprudent Decision, Part 2
By Charles Grayson | Bigger Pie Forum | February 27, 2016
Brett Wingo, former Kemper construction supervisor, warned Southern Company executives in 2014 they were reporting false construction timelines for Kemper completion.  Articles by Steve Wilson (Former Manager Southern Company lied about Kemper schedule) and Eddie Curran (Wingo: I told Southern CEO Fanning that Kemper timeline was fraud) give details.  Since Mr. Wingo's warnings, startup of the gasification units has been delayed and delayed, currently August, 2016 but stay tuned.
Posted below is a November, 2013 Bigger Pie Forum article, "An Imprudent Decision", which asked whether from 2010 through 2013 Southern executives knowingly withheld notice of huge cost increases until crucial PSC regulatory approvals and a backroom legislative nod for the $1 billion rate payer shouldered  bond.  Immediately
after PSC recertification in 2012, the first cost increase for Kemper since 2009 was announced.  Shortly after swift passage of bond legislation, other large cost increases came in rapid order.  In the midst of the first $2 billion of increases, the President of Mississippi Power "retired" as did the MPC engineer overseeing the project.  Scapegoats?
Skip forward to the present and cost increases total almost $4 billion since that long period of unchanged cost projections.  Total projected cost is currently $6.64 billion but stay tuned.   Hard to believe so many highly paid experts had not a clue they had missed billions of dollars of costs until 3, 4, or 6 years into the project.  Mr. Wingo's experience demonstrates the same pattern for plant completion.  These are versions of bringing the frog to a boil slowly rather than throwing it into boiling water.
Were top executives of Southern Co. and Mississippi Power incompetent or did they knowingly falsify information given the public, PSC and the Securities and Exchange Commission?  More important for all Mississippians is whether some PSC commissioners knowingly let the cost estimates and completion schedules slide to grease the way for Southern.  Was there regulatory incompetence or turning a blind eye?  Where was the Mississippi Public Utilities Staff, the number crunchers advising PSC?  Has there been regulatory capture in Mississippi?  Only one of three commissioners opposed the folly.
Incompetence, stupidity or falsification describe actions of company top managers and some Mississippi regulators charged with protecting rate payers.   Will the newly elected PSC declare syngas a fuel for  regulatory purposes?   It would compete on price with natural gas for operating time in the Kemper turbines.
Bottom line is that the regulatory process in Mississippi is not adequate to the task of protecting public interests, at least not for big, complicated projects.