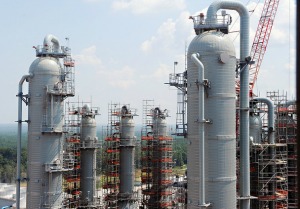 Kelley Williams,   Chair Bigger Pie Forum,    July 10, 2015
Bad news for Mississippi Power.   Good news for its customers.   The Mississippi Public Service Commission met recently to implement the Mississippi Supreme Court's orders issued six months ago to rescind the 18% rate increase and refund the $350 million the company illegally collected for its Kemper lignite project.
It looks like 156,000 residential customers could get  checks for $500-600 or more in time for Christmas.   Prospects for the company's substitute 40% rate increases don't look good.    That's because prospects for the company's $5.2 billion experimental Kemper gasifier don't look good either.   But there is the possibility of a smaller rate increase for Kemper's combined cycle gas turbines already generating electricity on natural gas.
Not a new idea.   Putting the turbines in the rate base isn't a new idea.   But it has a new supporter: the lame duck PSC commissioner.  He was appointed by the governor to fill the unexpired term of the former chairman and Kemper champion.   At the recent hearing he said: "How will costs be recovered? We're about to roll back the 18 percent (increase) and return millions of dollars to ratepayers, yet Kemper is still there, part of it is in operation and part of it will hopefully soon be in operation. The costs have to be recovered in my opinion."   He also said that while a 40% rate increase is unlikely, a smaller increase might be possible for the gas turbines plus other costs "…that might be ripe for recovery"   He said if the company asked for an increase on the turbines "…it might reduce the risk of having nothing approved…"   So while he thinks Kemper will soon be in operation and its costs have to be recovered, he doesn't think this is likely.   He does have a new standard for cost recovery though: The costs have to be "ripe."   Costs once had to be prudent per a used and useful test.   Now it seems they just have to be "ripe."
Kemper's turbines began producing electricity routinely on natural gas a year ago.   The company sells it in the wholesale market and uses it at the Kemper site.  It's cheap because natural gas is cheap.  However, retail customers can't buy it because it's not in the rate base.   It's not in the rate base because the company hasn't filed for permission with the PSC.   Why?   Probably because cheap electricity from the turbines on natural gas will make it impossible for the company to get the PSC to approve (and customers to stand still for) expensive electricity from the turbines running on synthesis gas from lignite.   But the turbines on natural gas are still a good idea.   That's why we suggested this two years ago.
Natural gas cheaper.   We estimated that electricity from the turbines on natural gas would cost 6 cents per kWh.   This assumed $800 million for the turbines and $3.76 per mmbtu for natural gas.   We estimated electricity from the turbines on synthesis gas from lignite would cost 30 cents per kWh assuming $3.3 billion for the gasifier after write offs.   So the turbines on natural gas vs synthesis gas would save retail customers more than $2.5 billion over the first ten years.    That savings is even greater now.   Natural gas prices are lower and projected gasifier operating costs are higher due to higher capital costs and lower (maybe no) byproduct revenues.  We continue to think there are substantial operating risks and that the gasifier may never achieve economic commercial operation.    It may never operate on a reliable consistent basis at all – regardless of cost.   There may also be safety issues.
The turbines at $800 million are not a bargain because they are part of the Kemper project which was never intended to be a bargain.    And they are not in the optimum location to meet system demand.   In fact, they may not even be needed to meet system demand.   It appears demand growth, high natural gas prices, and a $2 billion low ball project cost were assumed to justify the politically motivated experiment that has turned into Frankenstein.  The turbines are not prudent by objective standards.   But they are there.   And there is a risk that the upcoming PSC elections will deliver another commissioner who thinks Kemper's costs have to be recovered when they are "ripe."   Therefore, we suggest again that the turbines be deemed prudent at a cost of $800 million.   This probably means a 12% rate increase after the 18% increase has been rescinded and refunded.   It's still a good idea because it seems to be the least bad idea of what to do about Kemper.
Company owns Frankenstein.  That leaves the Frankenstein gasifier as the company's responsibility, not customers.   That seems fair.   It was the company's idea, not customers.  If the company pulls the plug on it now, it will probably mean $4 billion additional write offs.   That's a lot.   But the company's parent $40 billion Southern Company can handle it.  The total could be much higher if the company tries to start up and operate the gasifier.   That may be harder than building it.  It could end up costing another $3 billion with the company eating it all.
Two heroes in this fiasco had the customer's interest at heart.  One PSC commissioner consistently voted against Kemper.   Customers owe him.  The real hero, though, is the private citizen customer who intervened before the PSC and appealed to the Supreme Court which  rescinded the illegal rate increase and ordered the refund.   He made a difference.  Customers owe him for their upcoming Christmas present.    Customers don't owe the legislature.  It passed the Base Load Act to make them pay construction interest on Frankenstein.   Customers don't owe elected officials either.  They stood by while the company and two PSC commissioners conspired to make customers pay for Frankenstein.