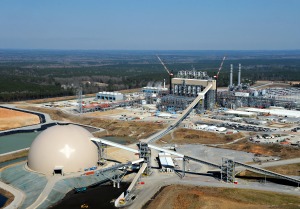 Former manager: Southern Company lied about Kemper schedule
By Steve Wilson  /   February 16, 2016  / www.mississippiwatchdog.org
A former project manager at the $6.36 billion Kemper Project clean coal power plant has ended his company-ordered silence.
Former Southern Company Services engineer Brett Wingo told Mississippi Watchdog in a phone interview the Southern Company lied to regulators about the project's construction schedule in an effort to hang onto more than
$234 million in federal tax credits.
Southern Company didn't respond to a request for comment on Wingo's allegations. Southern Company subsidiary Mississippi Power referred all questions to its parent company.
Wingo was the project manager for the gasifier island, which does the work of converting lignite coal mined on site into synthesis gas until 2014, when he was placed on paid administrative leave by the company that August.
Wingo said he went all the way up the company's chain of command to Southern Company CEO Tom Fanning about his concerns with the project schedule in 2012, but his pleas were ignored at every level. The company insisted in filings with the Securities and Exchange Commission that it would make its self-imposed May 1, 2014, deadline to get the gasifier operational. The company didn't report the delay untilOctober 2013 and blamed weather and problems with worker productivity.
"They [company management] absolutely refuse to take bad news and do anything with it," Wingo said. "Basically, I tried to keep the company from going down a road, a bad, bad road. One that completely erodes trust. There's one thing that Southern Company or any other regulated utility holds dear and their number one asset is a constructive regulatory relationship. That is something you never want to damage.
"Through lies, deceptions and half truths and an unwillingness to confront that, I believe they've damaged that. We chose not to [be truthful] and we did it multiple times."
Wingo's allegations are seconded by the 2014 report from the independent monitor hired by the Mississippi Public Utilities Staff, a separate group from the elected Mississippi Public Service Commission. Engineering firm POWER Burns and Roe said in the report it was aware in November 2012 that the plant wouldn't be ready for its originally scheduled in-service date of May 1, 2014.
The company announced in September 2015 it wouldn't meet an April 2016 deadline to begin gasification of lignite coal and will have to repay the $234 million in IRS investment tax credits. The 582-megawatt plant has been running on natural gas since August 2014 and is billions over budget and years behind schedule.
Wingo started his career at Southern Company Services as a contractor in August 2007, when a new integrated coal gasification plant in the design phase was to be located near Orlando, Fla. After the new coal gasification plant was moved to east central Mississippi in Kemper County, Wingo was later hired as a full-time Southern Company employee in June 2009 and promoted to project manager in August 2011.
The Southern Company sued Wingo in February 2015 and won a gag order. Southern Company attorneys later filed a motion with the judge to throw out the case. Wingo was offered a deal that he said was so slanted toward his former employer that he refused to sign it and fired his attorney as a result. He said the lawsuit was an unsuccessful attempt to pressure him into not filing a complaint with the Occupational Safety and Health Administration and the Department of Labor about alleged company violations of the Sarbanes-Oxley Act of 2002, a law designed to combat corporate and accounting fraud.
Wingo, who is currently unemployed, said he thinks the power plant likely won't be operational until 2017. That would be almost a year behind the second half of 2016 opening Mississippi Power now quotes for the project. Wingo also said Kemper will likely cost at least $7 billion, more than $5 billion beyond the originally forecast price tag.
The original construction schedule for Kemper, Wingo said, was "highly aggressive," considering the scope of work required and the first-of-its-kind nature of the plant.
"We never had a system," Wingo said. "They threw together these half-assed schedules that made no sense that you couldn't use as a project management tool. If you took Kemper and put it on a real schedule and then you asked people that were actually responsible for executing their part of the schedule for input, to see if we can keep our promises, that schedule would've blown way out into 2015, possibly beyond. In 2012, we had a purposely broken project schedule that was designed to confuse everybody."
Wingo said 2012 was the fork in the road where Southern Company could've made things right. That year, the Mississippi Supreme Court threw out the facility's first certificate of convenience and necessity, issued in April 2010 after the Mississippi Sierra Club filed a lawsuit. The certificate gave Mississippi the authorization to build and operate the plant.
The utility reached a deal with the Mississippi Public Service Commission and a second certificate of convenience and necessity was issued in April 2012, with a $2.88 billion cap placed on Kemper's costs. According to the certificate, the company couldn't seek to recover costs from its customers in the form of rate increases that exceeded the cost cap unless "the commission has scrutinized those costs for prudency."
Wingo said the company should have re-evaluated the marketplace in 2012 because of lower natural gas prices and put the gasifier into mothballs incomplete, waiting for a time when higher prices would make running the plant on synthesis gas cost-effective. Instead, the company didn't reveal a $366 million cost increase until June, after the PSC had approved the second certificate, and continued moving ahead to make the gasifier operational. Wingo said the company was aware of the cost increase before the PSC voted on the new certificate, but waited until the certificate process was complete before revealing it.
Mississippi Power made a splash last March when it announced the gasifier's key milestone, the "first fire test," had been successful. In a "first fire" test, engineers test the ability of the gasifier and other important downstream components to handle the 1,800-degree Fahrenheit temperatures and great pressures using sand rather than lignite coal. Wingo said the announcement was premature and that the "first fire" wasn't a true test of the system because the coal circulation test, which should have preceded "first fire," wasn't performed until after the March announcement.
The company said in its news release that the gasifier's pilot burners were lit. Wingo said that alone didn't constitute a full test of the gasifier and its ancillary systems, including the protective refractory coating.
"It [the first fire] was supposed to soothe everyone's angst over Kemper and get it back on schedule," Wingo said. "Back in March, they lit a pilot light on the starter burner. That's it. They didn't raise the temperature on the gasifier, not one bit. They didn't circulate solids. They didn't control the oxygen levels. They didn't do anything but lie. They still haven't achieved 'first fire' and they're now running into problems, like the eroding refractory."
Kemper required $40 million in additional spending for "challenges in start up and commissioning activities, including repairs and modifications to the refractory lining inside the gasifiers" in the company's last 8-K report on Kemper filed earlier this month.