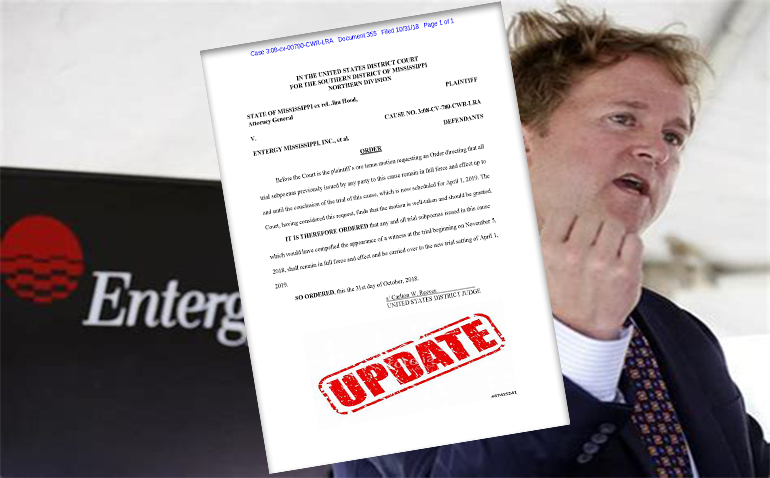 UPDATE: (Rescheduled for April 2019) Entergy's Lawsuit Finally Going to Trial
UPDATE November 5, 2018
Trial has been rescheduled for April 1, 2019 – Order
For ten years, Mississippi Attorney General Jim Hood's lawsuit against Entergy and its wholesale pricing practices has been in the court system.
On November 5, it will finally go to trial in federal court as the AG is seeking $1.1 billion from the New Orleans-based utility with subsidiaries in four states.  While the company will likely have to pay after losing a similar class action lawsuit in Louisiana, it presents an opportunity to kick-start the discussion over the regulated monopoly model for electric generation in the state.
Hood is accusing the state's largest investor-owned utility of selling more expensive power on Entergy customers in its Mississippi service area of 45 counties in the western part of the state.  This power was sourced from Entergy's antiquated generating fleet in its four-state footprint rather than from the open market.
Entergy has already had to divest its transmission network and join a regional transmission organization in 2012 after settling with the U.S. Department of Justice.  The DOJ investigated the utility for non-competitive trade practices after it was accused of starving out independently-owned, natural gas power plants by denying cheaper power access to utility's grid in favor of more expensive power from its generating fleet.
The independent plant operators hit hard times and Entergy scooped seven of these modern plants on the cheap, including one near French Camp in August.
Whether or not Hood's lawsuit is successful, the experience with Entergy shows that the future of power generation is distributed, not centralized.  The days of the heavily capitalized monopoly in an age of cheap natural gas are finally drawing to a close.
Competition ultimately drives down prices and having more generation options on a power grid that maximizes savings with the cheapest power for ratepayers could be a boon for the U.S. economy.  Texas de-regulated its electricity market and it's one of many factors making the Lone Star State one of the fastest growing economies nationwide.
Imagine being able to choose your generation provider and save money in the process. It's a future a lot closer than many think.