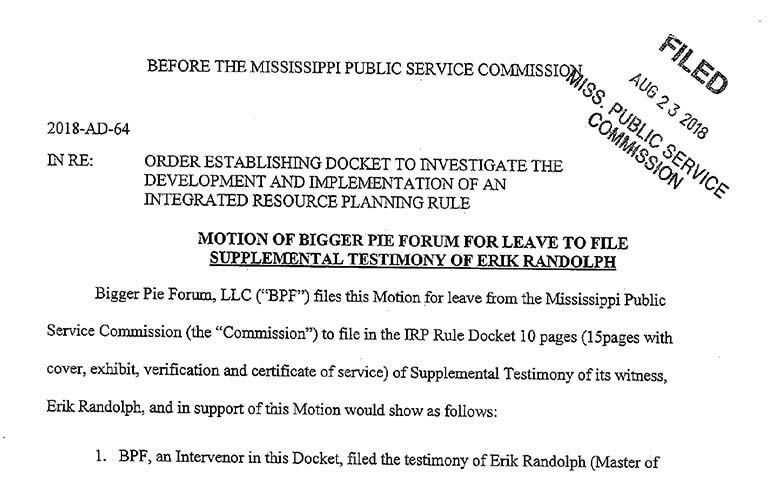 BPF Motion for Leave To File Supplemental Testimony of Erik Randolph
Bigger Pie Forum actively opposed the Kemper lignite gasification plant for 6+ years.  We decided  that if the boondoggle was ever defeated, we'd seek structural changes.  Fortunately for Mississippi Power Company (MPC) customers and Mississippi, the Mississippi Public Utility Staff and the Public Service Commissioners woke up to the massive economic damage Kemper would have inflicted on the state.  They disallowed lignite gasification, allowed MPC to generate power from natural gas, ordered a fairly reasonable rate increase and required MPC to enter a review of their older facilities with an eye on closing higher cost ones.
Largely out of public view for the past year, BPF has developed proposed changes to the laws and PSC procedures that control investments and rates of regulated entities.  The changes will provide a much needed, different and better balance among the interests of regulated companies, individual rate payers and large industrial customers.
PSC Commissioners are considering changes to their procedures which, if adopted, would greatly improve transparency and understanding by the PSC and the public of regulated companies' investment decisions and rate requests.  The process is called Integrated Resource Planning (IRP).  The public should follow these proceedings, Docket 2018-AD-64, and urge the Commissioners to adopt IRP.
BPF's Supplemental Testimony by Mr. Erik Randolph was filed with the PSC on August 23rd.  The original testimony and article are also available for viewing.  Mr. Randolph is an expert in regulation of monopolies.